New Product | Diversified and Colorful UV DTF film
---
UV DTF printing is used for a wide range of personalized products and is widely appreciated by customers for its durability, excellent adhesion and smooth surface. Hanrun Paper brings you the new Hologram UV DTF film and Golden UV DTF film, which will give you even more brilliant designs for your UV DTF printing.
Hologram UV DTF film
- Rainbow effects make your designs stand out.
- No limit to the background color of the substrate, and it is widely used.
- Suitable for indoor and outdoor use.
- Scratch-resistant, water-resistant and fade-resistant in sunlight.
Hologram UV DTF film is a super shiny iridescent effect material that will make your print look incredible. Its special UV-curable printing layer gives a very glossy surface and excellent durability.
Golden UV DTF film
- Golden effect printing
- Glossy surface and 3D effect, soft hand feeling;
- Waterproof, sunscreen, high-temperature resistance, UV resistance, acid and alkali resistance;
- Suitable for most materials and films, not limited by material and shape, it can paste to any hard surface.
Golden UV DTF film gives your designs a gold-plated effect. You can use it to personalize your creative designs or combine it with your brand label to create unique brand marketing and brand value.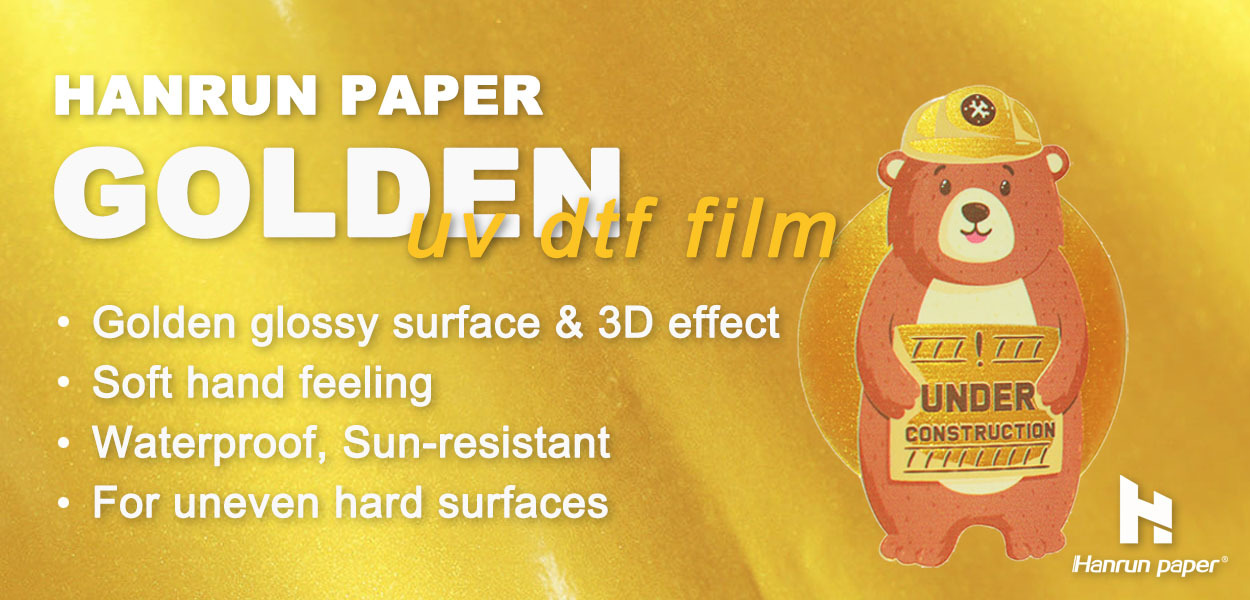 UV DTF printing is a highly flexible printing technique that can be used on hard surfaces such as metal, leather, wood, cardboard, plastic, ceramics, glass, acrylic panels and more. It can even be transferred to irregular and curved surfaces. This printing method is environmentally friendly. As UV curing inks are not solvent-based, no toxic substances are evaporated into the surrounding air, guaranteeing a safe working environment.
If you want to know more, please click the contact information below, Hanrun Paper® is at your service.
---