New Product | Super Instant Dry Sublimation Paper in One Second!
---
Sublimation Printing is playing an increasingly important role in the digital printing industry due to its low cost, environmental friendliness and ease of handling. Many print industry producers are now choosing to use sublimation transfers instead of traditional dyeing.
When purchasing sublimation paper, transfer rate, compatibility, and curl resistance are all important criteria for customers to consider the merits of the product. For sophisticated print industry producers, the drying speed of sublimation paper is also an important product element. Sublimation paper that dries quickly ensures that patterns are not rubbed off when printing at high speeds, facilitating continuous printing and increasing delivery speed.
Hanrun Paper® new Super Instant Dry Sublimation Paper can dry in ONE second!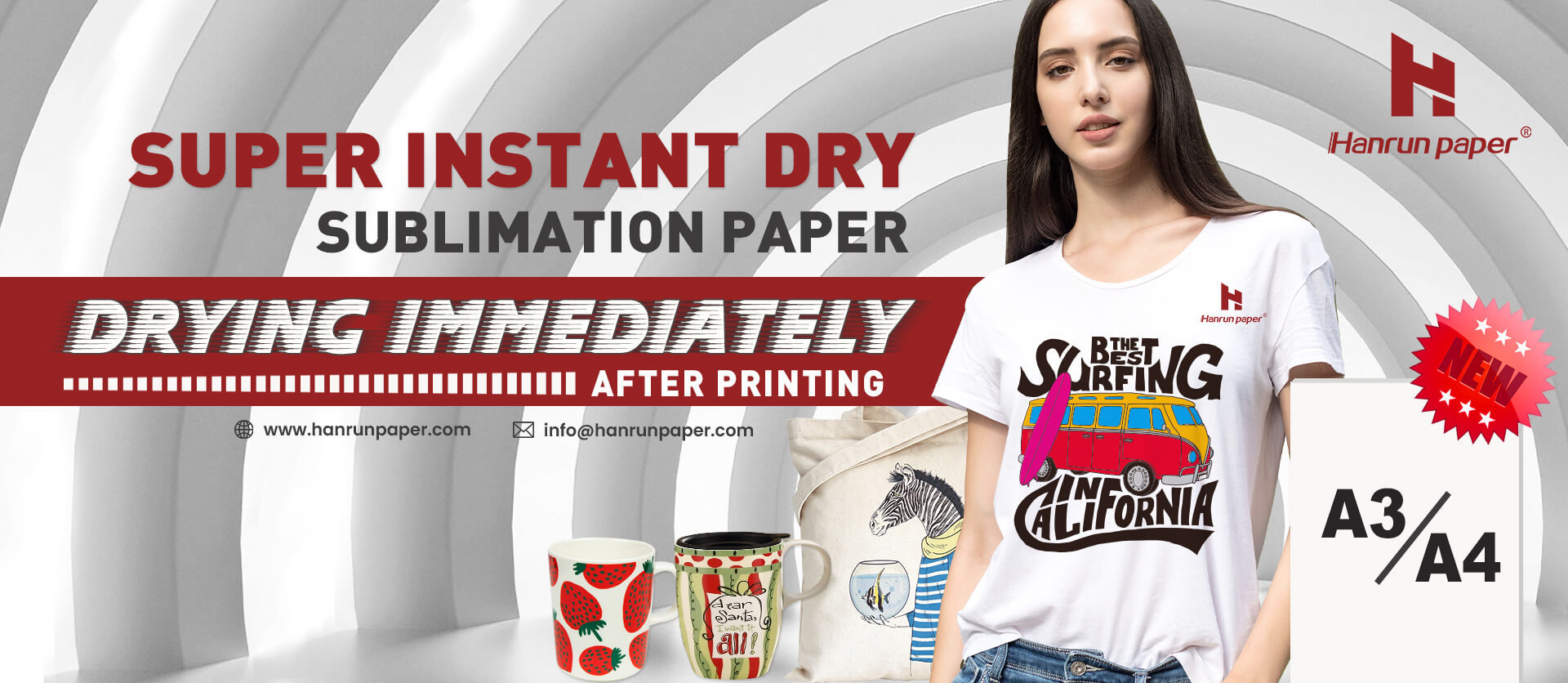 Adaptable to ultra-fast printing speed and instant dryness
Super Instant Dry Sublimation Paper maintains the original transfer rate, and the drying speed is greatly increased, making it suitable for high-speed printing on thermal sublimation printers. The fast drying feature prevents the printhead from rubbing the pattern and causing smudges when it moves quickly. It also shortens the working time of printing, speeds up production, and improves productivity. Watch product video>>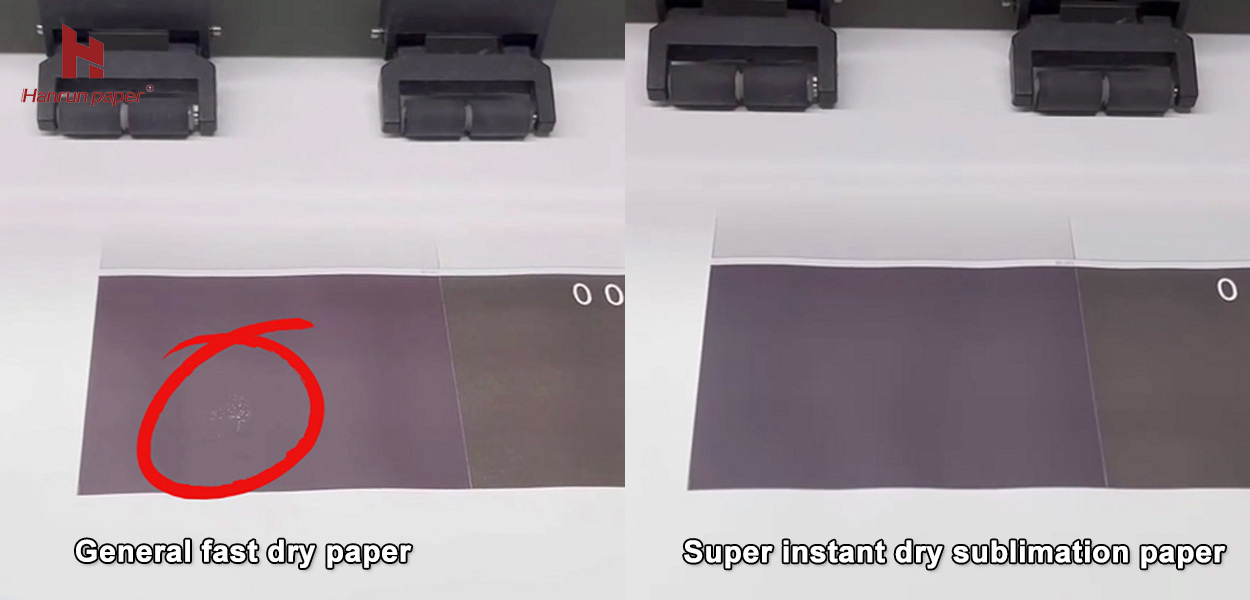 High transfer rate and stable printing quality
Hanrun Paper® sublimation paper series has been widely praised by our customers. We insist on using superior coating to ensure its printing quality. Super Instant Dry sublimation Paper inherits the high transfer rate, high color density, and excellent line definition of the sublimation paper series. It has better ink absorption, good flatness, stable printing quality, and superb adaptability to various application environments.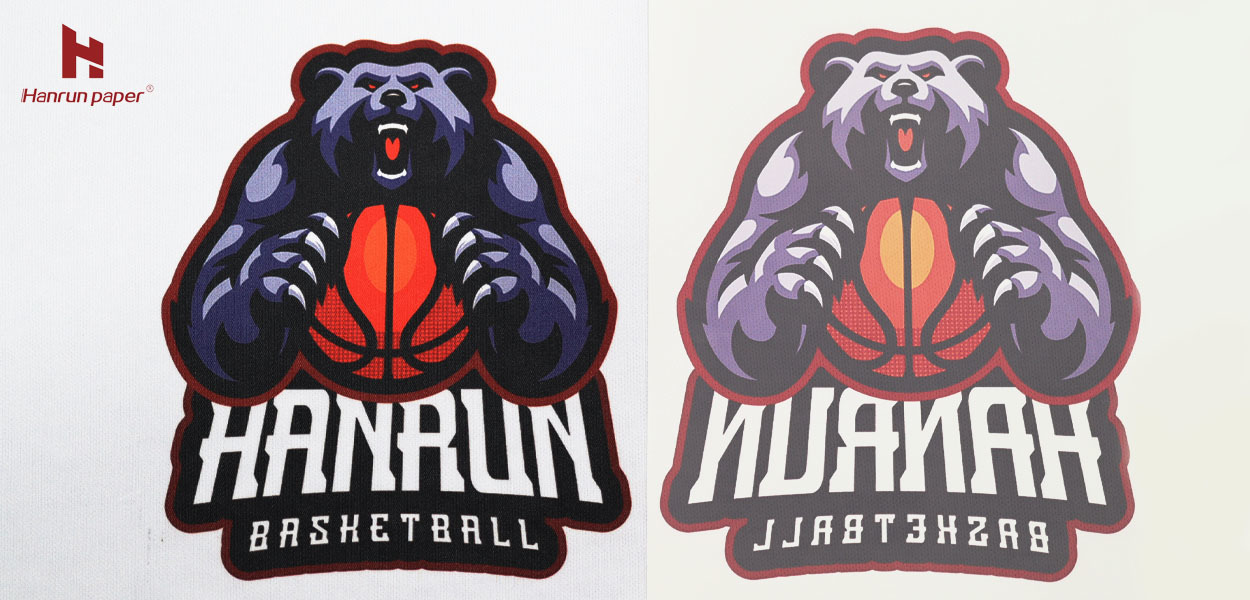 The perfect choice for personalization
We provide you with 105g and 120g in A3 and A4 sizes for EPSON, Sawgrass, Brother, and many other different brands of sublimation printers. Hanrun Paper® Super sheet Dye-Sub Paper is flexible in application and can be used for mugs, mouse pads, aluminum plate artwork, T-shirts, pillows for personalized designs.
Hanrun Paper® technical team will continue to research innovative technology and upgrade the sublimation coating formula to bring more high quality sublimation paper to our customers.
If you want to know more, please click the contact information below, Hanrun Paper® is at your service.
---