New Product | UV DTF PRO Ink
---
Hanrun Paper® UV DTF PRO ink is specially designed for UV DTF printing. It adopts high-quality raw materials, with strong ink adhesion, high color fastness, high hardness and vivid colors. The ink particles are more delicate, with no flying ink, good fluidity and good stability. It can be applied to i1600, i3200, DX5, XP600, TX800 printheads.
UV DTF printing products have good sunlight and moisture resistance, long-lasting and wear-resistant colors, and are the best choice for hard surface label printing. UV DTF ink is environmentally friendly and does not contain volatile solvents, ensuring a safe working environment.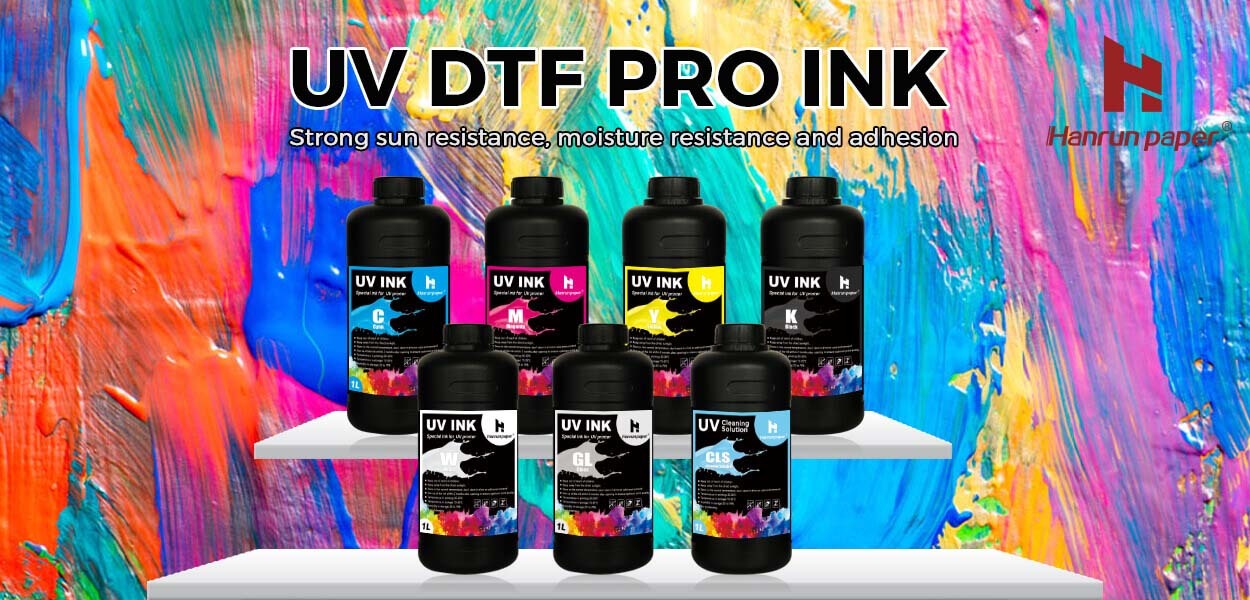 UV DTF printing is a label graphic printing process that prints white ink, color ink, and varnish layer-by-layer on the UV DTF film with back glue by the UV DTF printer, then covers it with position film, and finally transfers the pattern on the surface of the product.
UV transfer stickers are easy to use and can be used as soon as you tear them off, which is convenient and quick, and solves the technical vacancy of printing irregularly shaped products. Compared with ordinary labels, UV transfer stickers have very obvious advantages. UV DTF printing patterns are bright, rich in color, strong in three-dimensionality, high in gloss, easy to peel off during transfer printing and leave no glue residue. It is a popular craft in the advertising label customization industry.
Features
# Vibrant and bright colors
# Good fluency and stability
# Strong sun resistance, good moisture resistance and strong adhesion
# Ink with high purity and the color is not easy to yellow discolouration
# Eco-friendly and harmless, without volatile solvents
If you want to know more, please click the contact information below, Hanrun Paper® is at your service.
---