DTF printing or Screen printing - Which one to choose?
---
The emergence of DTF printing technology has brought new changes to the printing industry, and some traditional printing modes are being gradually replaced. As a practitioner in this industry, you may be wondering whether you need to follow the tide of the times and start making changes. In this article, we will help you to comprehensively analyze which one is more suitable for your business, DTF or screen printing.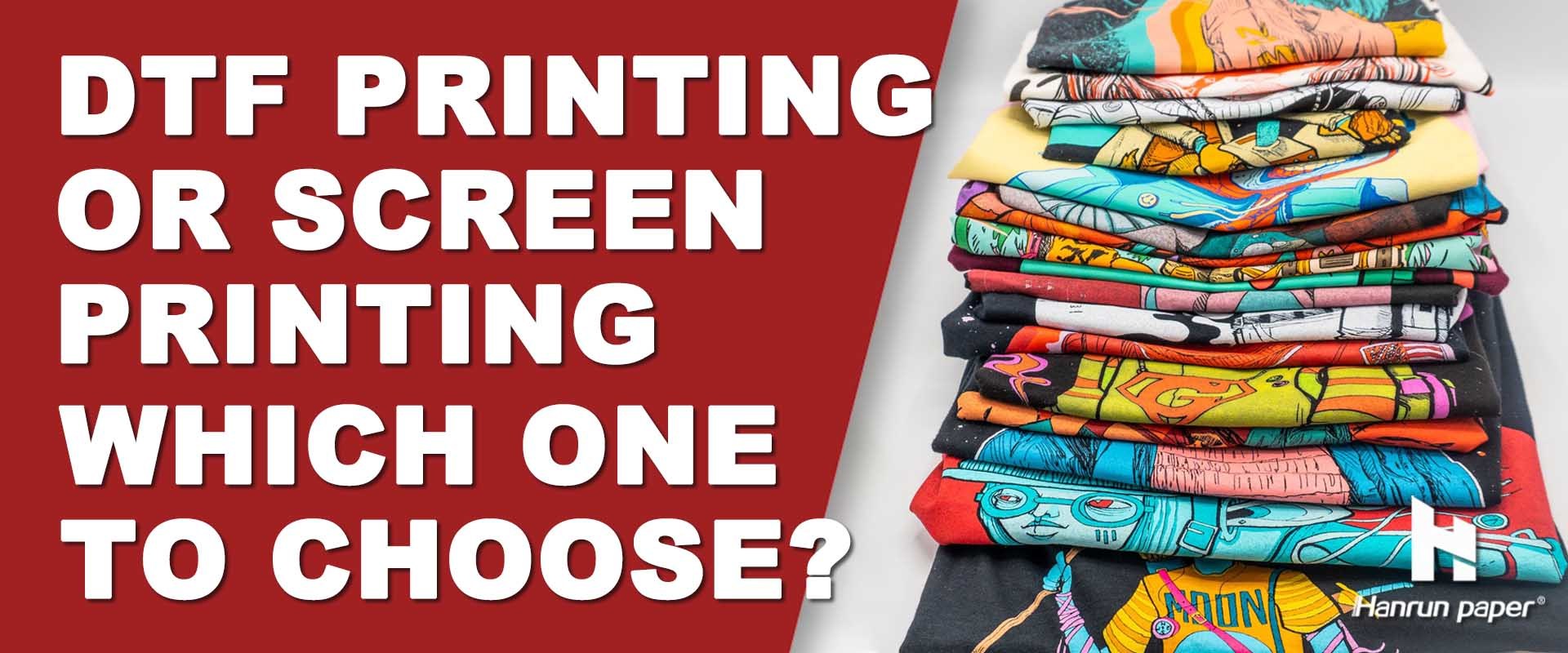 What is DTF printing?

DTF printing is a process in which a full-color image is printed onto a special heat-resistant transfer film and the design is then transferred to the garment using a heat press and adhesive. This printing method offers superior print quality and durability. It provides a durable and cost-effective solution for producing full-color prints and is popular for printing logos, slogans and other text or small designs on T-shirts, hoodies and other apparel.
What is Screen Printing?

Screen printing is the process of transferring a stenciled design to a flat surface using a screen, ink and a squeegee. Fabric and paper are the most common surfaces for screen printing, but it is also possible to print on wood, metal, plastic and even glass using specialized inks. The basic method involves creating the stencil on a fine mesh screen and then pushing the ink (or paint, in the case of artwork and posters) in to create your design imprint on the surface of the substrate.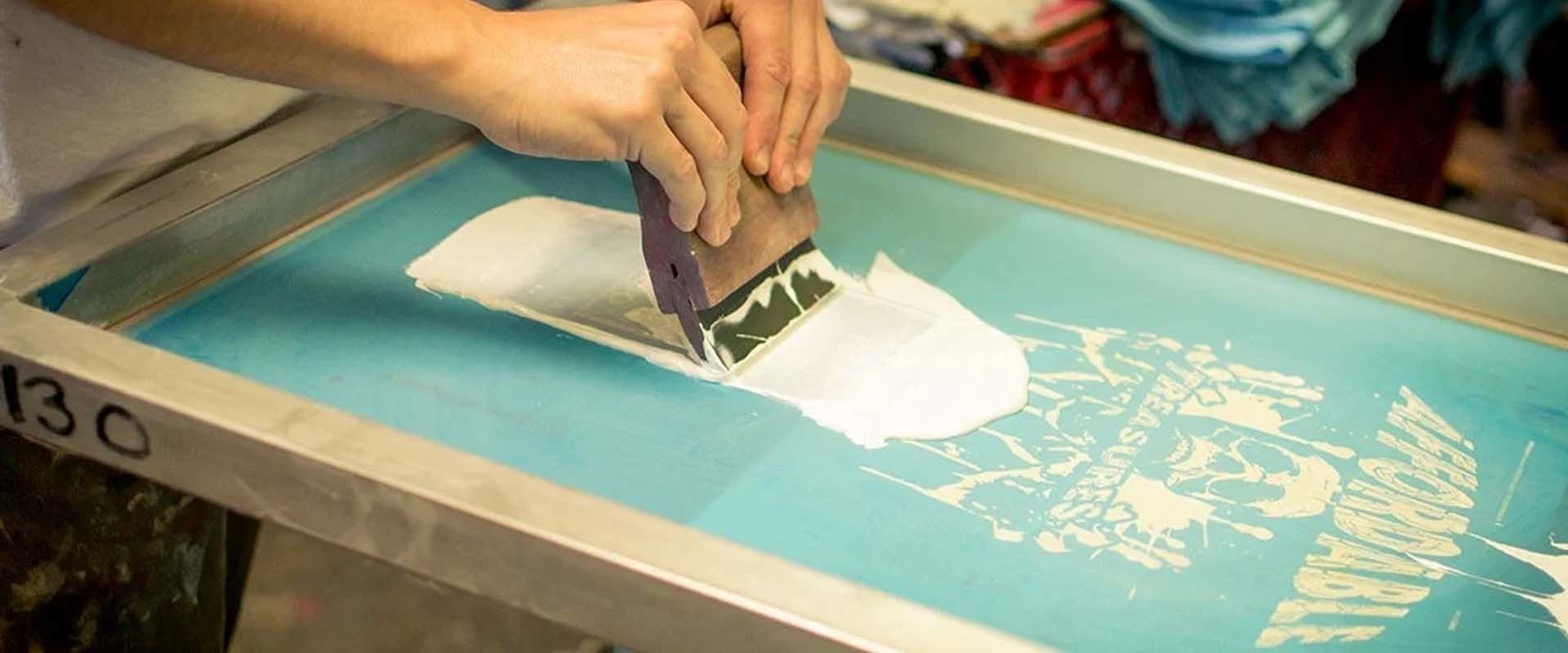 * Create designs with screen printing.
What is the difference between DTF printing and screen printing?
Production Process
DTF printing is a type of digital printing where the design is fed into the printer via computer and the image is transferred to the textile. DTF printing is relatively simple to produce. You only need a simple setup to start production, and all operations can be easily done by one person.
Screen printing is a traditional printing method. Before you can start printing, you need to create a stencil on the screen, which can be a very complicated process and also means a lot of labor is required. Once the stencil is made it is possible to reproduce the design very quickly and many times. Its limitation is that it cannot be done quickly for multi-color designs. The higher the number of colors, the more stencils are needed and the more complicated the process. Therefore, this process is more suitable for mass production of single-color printed designs for garments.
Printing effect
Both DTF printing and screen printing can print vibrant colors on dark fabrics and have a very similar feel on the fabric surface. The technology of screen printing has been very mature, besides color printing, it can also achieve special printing effects such as luminous, fluorescent, glitter, crackle and foam.

As a newly emerged printing technology in recent years, DTF printing is still in the development stage. At present, special consumables such as DTF fluorescent ink, glow-in-the-dark DTF film, glitter DTF film and DTF gold foil have made DTF printing effects more and more abundant. It is worth mentioning that the color intensity of DTF printing was limited by the CMYK color gamut in the past, but now the research and development of DTF spot color inks have made it comparable to the color intensity of screen printing. We all believe that in the future DTF printing will have more possibilities.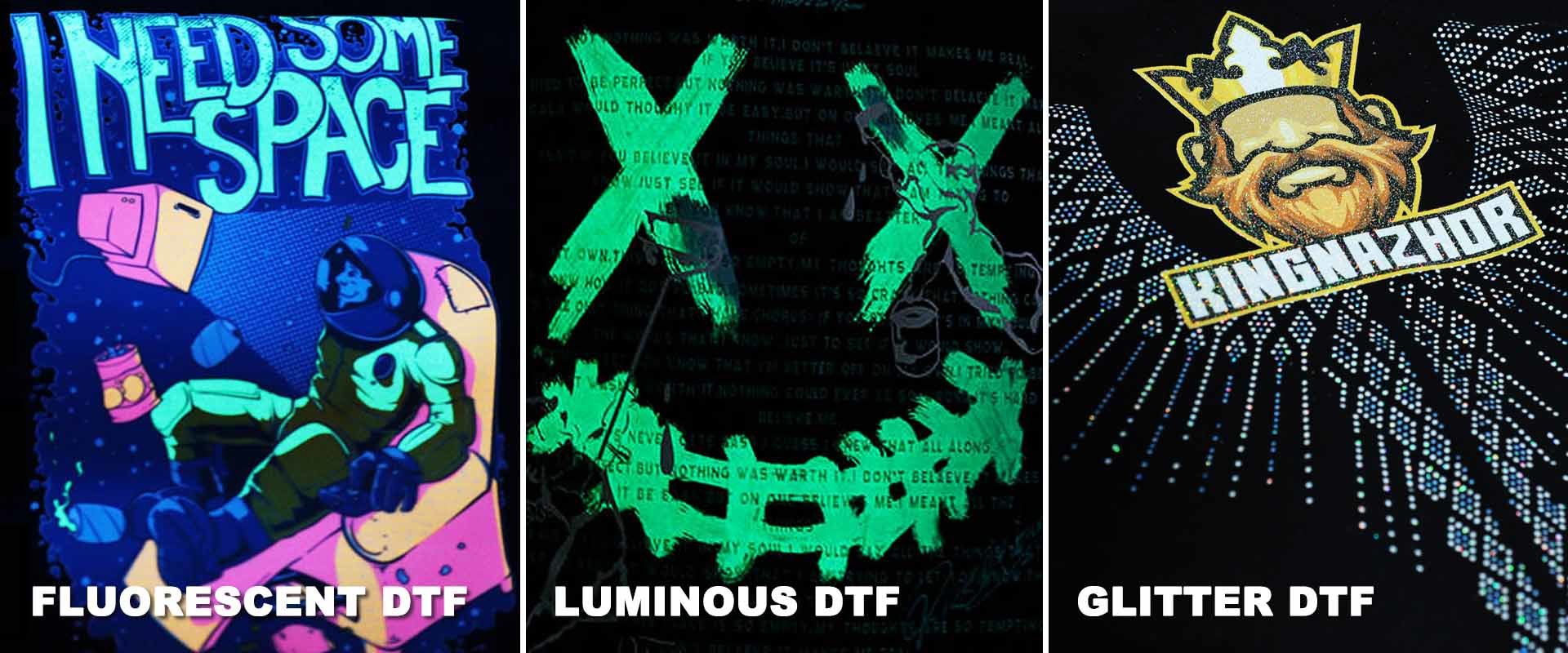 * DTF printing can create printing with fluorescent, luminous, and glitter effects.
Applicability
DTF printing is mainly used in apparel. It can be applied to fabrics of various materials, including cotton, linen, polyester, denim, canvas, knit, etc. It can be produced on a relatively small scale and can quickly complete fine, small-lot customized production with simple and economical operation.

Screen printing has a wide range of applications. With specific equipment and materials, this process can be used in a variety of industries such as fabrics, packaging, logos, and advertising. It is often produced on a very large scale and is mostly used for the mass production of repetitive products.
DTF printing and screen printing profitability comparison
In the apparel printing industry, the profitability of the printing business depends on several factors, including material and equipment costs, labor costs, production speed, final product quality, and market demand and pricing.
Material and equipment costs: DTF printing requires printers, special films, inks and heat presses. There are many inexpensive, small equipment options available on the market; high-precision and automated equipment can be relatively expensive. Screen printing requires screens, inks and squeegees, all of which are relatively inexpensive. However, for large-scale printing, screen printing may require more equipment, which can drive up costs.
Labor costs: DTF printing requires less labor than screen printing because it is a digital printing process. Screen printing requires manual labor, including setting up the screen and cleaning up after printing.
Production Speed: DTF printing is faster than screen printing, especially for small orders. Screen printing can be time-consuming, especially for multi-color designs.
End product quality: DTF printing produces high quality prints with complex designs, rich colors and a soft hand. Screen printing can produce high quality prints, but can be lacking in color.
Market Demand and Pricing: Demand for DTF and screen printing varies by market; DTF printing may be more popular with customers looking for high quality prints, while screen printing may be more popular with customers looking for a cost-effective option.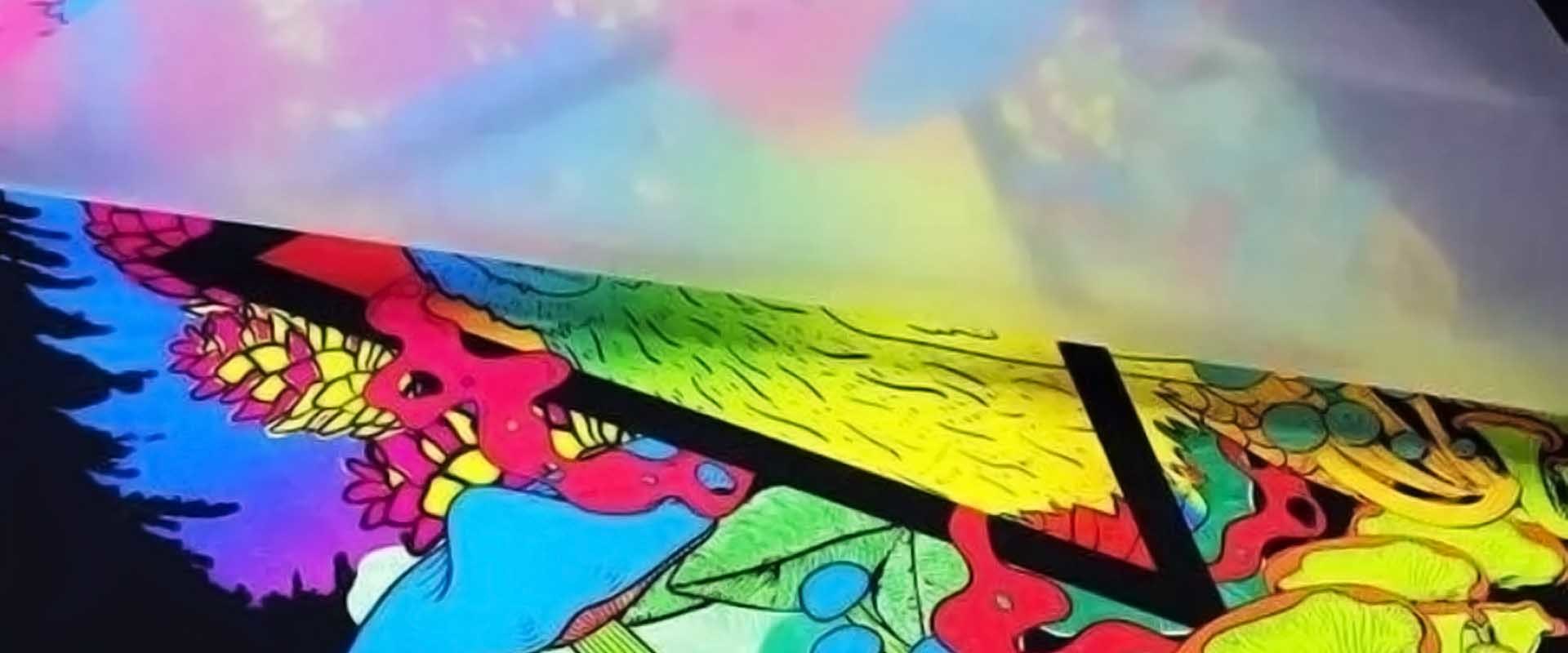 * DTF printing can quickly achieve colorful designs.
Which one to choose between DTF printing and screen printing
There are advantages and disadvantages to both DTF printing and screen printing. If your business requires a high quality print with vibrant colors and a soft hand, DTF printing may be the best choice. If you're looking for a cost-effective option for larger orders, screen printing may be a better fit for you. In short, it's important to consider all factors and make an informed decision based on your business needs.
---