UV Ink Application Solutions
---
As the market demand for UV DTF printers continues to increase, the application of this technology in various industries is becoming more and more widespread. Whether it is home decoration customization, cosmetics, advertising, phone cases, toys, handicrafts, decorative paintings, or packaging industries, UV DTF printers are capable of handling them all. The materials that UV DTF printing technology can be applied to are becoming more and more diversified, including metals, acrylics, glass, plastics, stones, woods, leathers, PVC, and so on.
However, since there are many different types of UV ink in the market, how do we choose the right UV ink in actual production? In this article, we will introduce the UV ink application solutions provided by Hanrun Paper.
Labeling application solution for hard surface materials -- UV DTF PRO Ink
Applicable materials: metal, glass, plastic, wood, crystal, PC board, stone, acrylic and so on.
Applicable industries: phone cases, stationery, cosmetics, toys, light boxes, helmets, etc.
Advantage: good adhesion, bright colors, full gloss and delicate printing effect.
UV DTF PRO Ink has good sunproof and moisture resistance, and long-lasting and wear-resistant colors, which is the best choice for hard-surface label printing. It can be applied to i1600, i3200, DX5, XP600, and TX800 print heads as it has fine ink particles, does not splash ink droplets, and has good fluidity and stability.
UV transfer stickers made with UV DTF printers can be used after tearing off, which is convenient and fast, and solves the technical gap of traditional UV printing in the application of irregular-shaped products. Compared with ordinary labels, UV transfer stickers have very obvious advantages. The patterns printed by UV DTF are bright and rich in color, with a strong three-dimensional effect and high gloss. They are easy to peel off during transfer and without residual glue.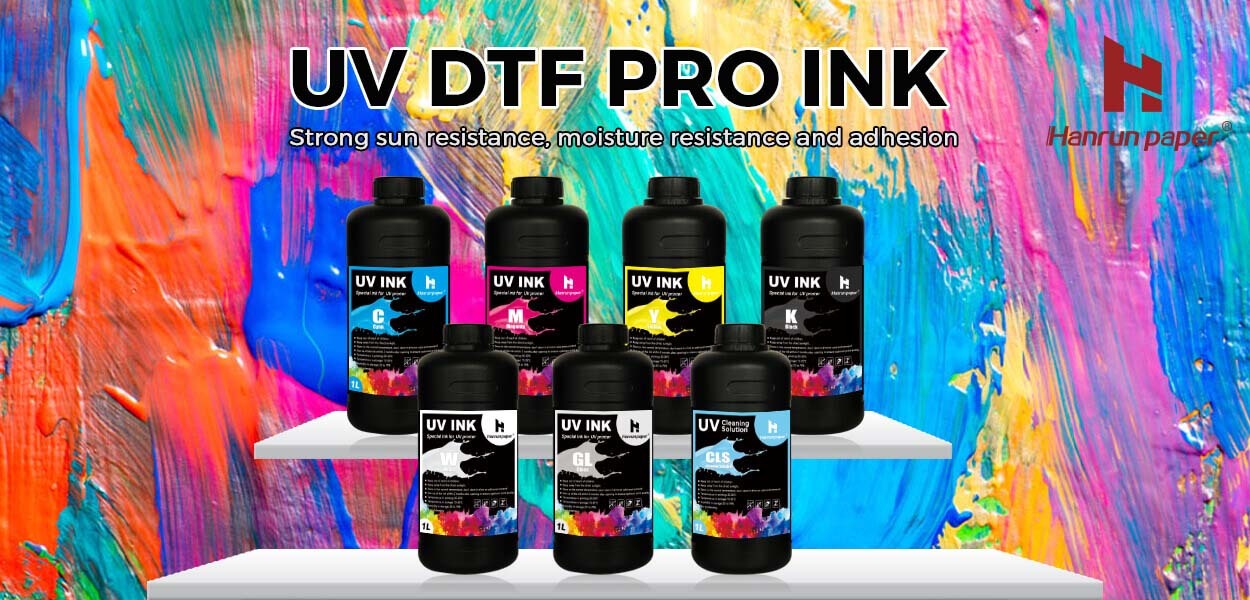 Soft material application solution -- UV Industrial Soft Ink
Applicable materials: PVC film \ TPU, canvas, plastic, leather, and so on.
Applicable industries: transparent glass stickers, advertising light box posters, customized car stickers, background wall stickers, label printing, and so on.
Advantages: good adhesion, strong stretchability, sun resistance, and will not crack or wrinkle when folded or kneaded.
UV soft ink can be used on soft materials such as leather, flexible film, and soft PVC. Patterns printed with soft inks have a softer appearance, allowing them to conform better to the shape of the media and reducing the risk of breakage. It is green and contains no volatile solvents, ensuring a safe working environment. Large-format outdoor posters, wall decorations, customized car decals and more can be produced using the H-1804 UV printer.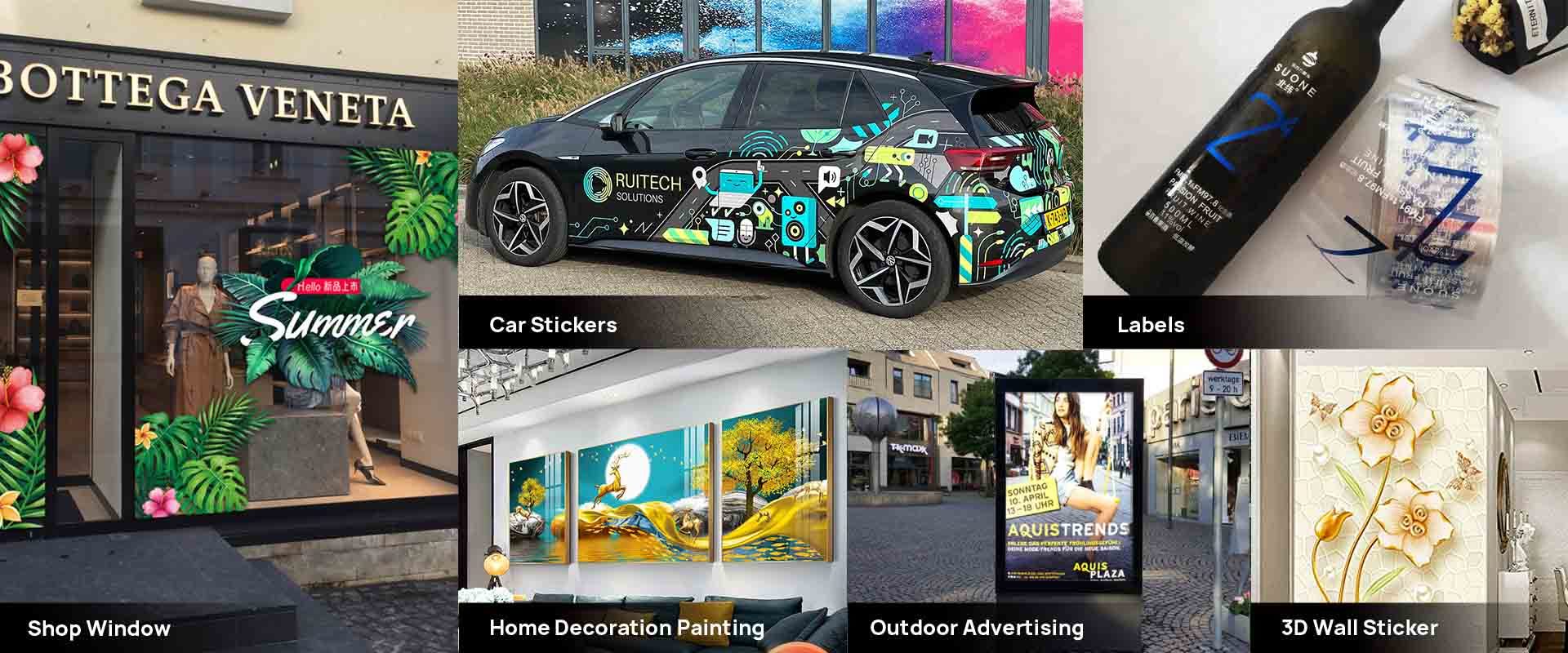 Dimensional hot stamping application solution -- Gloss Hot Stamping Varnish
Gloss Hot Stamping Varnish is a special varnish that when used with gold, silver, and colored foils adds special effects to your designs. The ink is UV cured and flexible, unbreakable, low volatility, contains no hazardous organics, and has excellent continuous production performance in industrial UV printer. By adding foil stamping to UV printing, you can create crisp, beautiful, colorful images that make your products more appealing to consumers.
Hanrun Paper UV DTF inks are made from high-quality raw materials with strong ink adhesion, high color fastness, and vibrant colors. Whether you are engaged in the advertising industry, decoration industry, packaging industry, or handicrafts industry, our UV DTF ink can bring you breakthrough innovation and excellent results. If you want to know more, please feel free to contact us!
---