Choose high-quality ink for your DTF printer
---
DTF (direct-to-film) printing is a process that uses a heat press to transfer the print onto fabric or other substrates. It reproduces the colors of the pattern perfectly on all colors of substrates and is suitable for printing on fabrics of all materials. Cotton, polyester, canvas, denim, knit ...... All can be printed using DTF technology. Due to its flexible application, it is favored by many manufacturers in the textile printing and dyeing industry.
Choosing good quality DTF consumables is crucial for printers in their daily work. On the one hand, using good quality consumables is a protection for the printer, more conducive to successful printing and guarantees consistent print quality. On the other hand, it also avoids material waste and controls production costs.
Ink is one of the important consumables for digital printing. Only high quality ink can ensure the printing of high precision and vibrant colors. The smoothness of the ink, color saturation, degree of color fixation, and environmental friendliness are all aspects to consider when choosing an high-quality ink.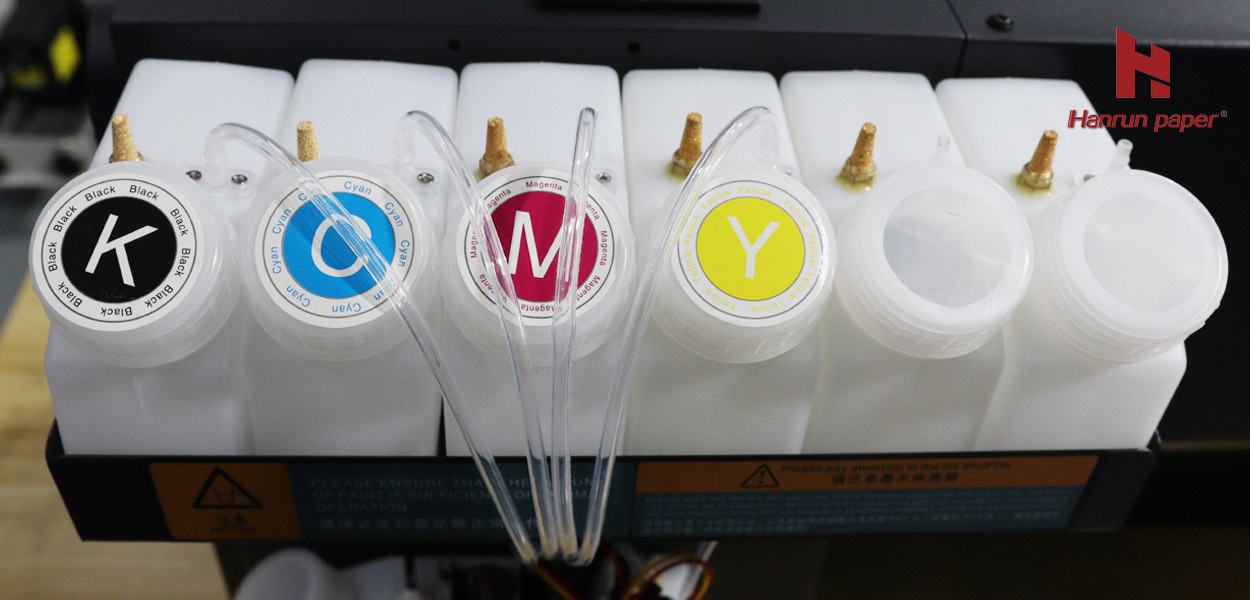 What are the advantages of a good DTF ink?
No blocking of the printhead: Under normal temperature and humidity, the stoppage does not solidify for 24 hours, which is not easy to block the printhead and improve the efficiency of the printer.
High color reproduction: The color can be perfectly reproduced after printing, and achieve photo-grade printing effect. Smooth printing, no stray colors, broken lines and other problems.
Clear edges: Printing without ink flow, you can print a clear edge of the pattern, shaking powder cleaner, no powder loss, and not easy to produce glue edge.
High coverage: Can be applied to multi-color fabrics, effectively solving the problem of color migration of dark fabrics, good coverage. High-temperature pressing does not change color, presenting high purity color.
Soft handfeel: The printed pattern is more vivid and soft, with high waterproof and flexibility, and will not crack when stretched.
Environmental protection: Passed OEKO test to guarantee a safe working environment, almost odorless, no require of special ventilation.
We recommend that you prefer the original DTF ink
1. The original ink is generally tested by the manufacturer for a long time, the performance is more stable, and the printing effect can be guaranteed.
2. The original ink and large DTF printer nozzle are more suitable, not easy to block and damage the nozzle, to ensure that the DTF printer at all times maintains the best working condition.
3. The original ink printing quality is higher, with strong color expression, delicate pictures, and high definition.
4. With the continuous innovation of DTF printing technology, the original ink cost continues to reduce, the price is becoming more affordable.
Note on adding ink
1. To add ink to the cartridge, please add according to the color logo.
2. Auxiliary funnel can be used when adding ink to avoid ink overflow.
3. If you need to replace different ink, be sure to clean the ink cartridge and ink path, so as not to mix different inks to produce impurities, blocking the printer nozzle.
Hanrun Paper® DTF ink particle size is fine and stable, and printing is smooth and non-clogging. All products have passed the strict OEKO test and are safe for the environment.
· LC/LM/LK/LLK DTF gradient ink
· FG/FM/FY/FR DTF fluorescent ink
We are constantly developing and improving our digital printing solutions, always striving to bring the ultimate printing experience to each and every user. Our motivation is to help our customers in the printing and dyeing industry to increase productivity and maintain a high level of competitiveness.
If you have any questions, please feel free to contact us, Hanrun Paper® is always at your service.
---
etect_browser_language":true,"languages":["en","ar","bg","zh-CN","zh-TW","hr","cs","da","nl","fi","el","hi","ja","ko","no","pl","pt","ro","ru","de","fr","xh","fy","sd","sn","gd","sm","ps","lb","ky","ku","haw","co","am"],"wrapper_selector":".gtranslate_wrapper","float_switcher_open_direction":"bottom"}