Large Format Sublimation Printing Guide
---
Just 20 years ago it was not so easy to find a personalized mug for a business; they had to be designed in the pottery process itself, hand-colored and baked. Now you just have to make a design on a computer (you can download it if you are too lazy) print it on a transfer paper and put it on a plate for two minutes.
Sublimation technology for these types of applications changed radically in these 20 years, great graphics then made their appearance from theatrical backdrops to large-format advertising banners and trade show booths, many of today's vibrant printed images are the The result of dye-sublimation transfer and direct sublimation, two technologies that have taken the textile industry by storm.
Thinking big can lead decorators toward large-format roll-to-roll sublimation. A process that has its advantages, but also some misconceptions that need to be cleared up. Doing so will also allow you to explore the potential markets that this type of sublimation can access.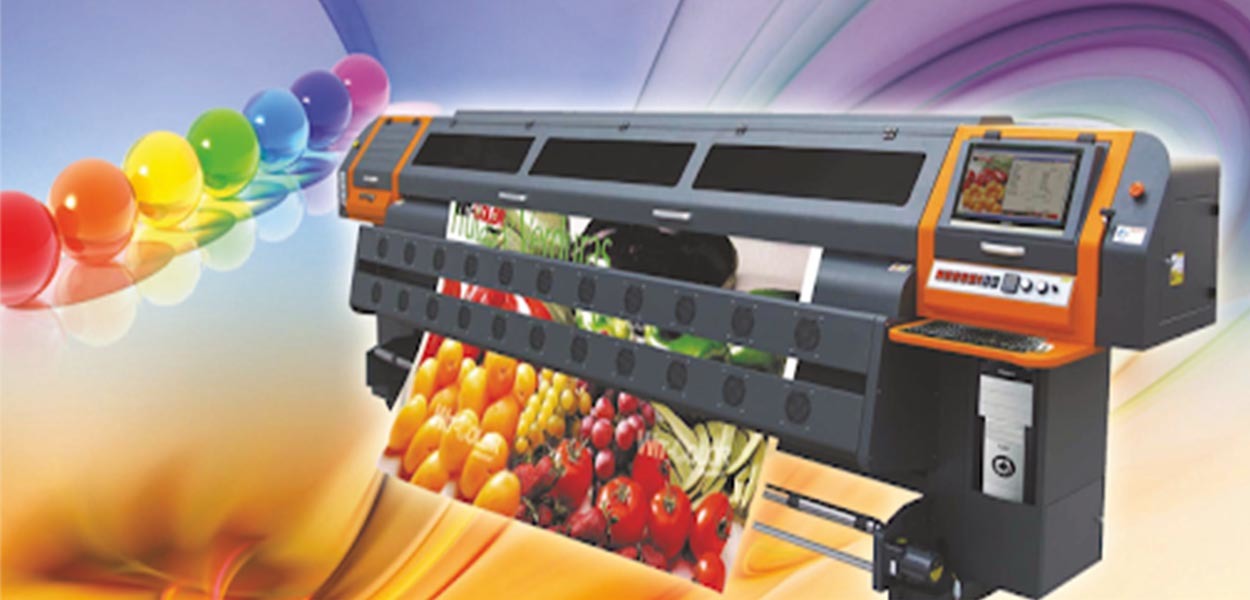 WIDE FORMAT MISCONCEPTS
The first wide format roll-to-roll sublimation misconception concerns the economics of the process. When people hear the words "wide format," they immediately think of hundreds of thousands of dollars invested, department stores, and other large-scale problems.
Fortunately, that is not reality. Nowadays you can buy sublimation printing systems in super wide formats for prices that are not so out of the reach of many decorators. Other associated costs may include a large format heat press or calender although it is sometimes not necessary for all wide format printing.
If investing some money causes you discomfort, another option is to rent the equipment. Many companies that follow this approach have shown that they can do well with large format sublimation printing.
In terms of earning potential, roll-to-roll sublimation can also be broken down into monthly payments and easily covered. For example, if you are looking to produce not only garments, but also household items such as shower curtains, sheets, blankets, pillowcases, and the like, you will need a machine that can print at least between 72 and 128 inches wide. Also a grille that can have that capacity.
The next misconception when it comes to wide-format sublimation is cost savings. Labor is a major cost factor, and most products have enough headroom to handle the higher ink costs associated with a small-format printer. However, when you cut costs, the perspective changes.
If you are a small format sublimator, you will most likely pay more for sublimation ink cartridge than for a liter. A typical sublimation transfer uses approximately 4.5 ml of ink per square meter. Compared to large format sublimation, where you pay less per milliliter of ink, the final cost is less per square meter.
NEW MARKETS
With the misconceptions now cleared up, we can talk about the applications. While most decorators primarily consider sublimation for garments, the reality is that there is much more that can be done.
Let's start with the lucrative apparel market
Sports Jerseys: For years, the sports jersey industry was dominated by vinyl lettering and dye houses. A lot of cotton was used and although this business model is still in decline today. Things have changed, however polyester t-shirts are becoming the norm. A solid color shirt with names and numbers with only one or two colors is not so common anymore. Now you can see great designs, multiple colors and gradients.
Additionally, garments can improve athletic performance by absorbing moisture and keeping wearers cooler. Today's jerseys are no longer simply used to designate a number; they are part of an athlete's success on the court or field of play.
Home Textiles - This category is a rapidly growing market when it comes to large format sublimation. Just by browsing websites like Etsy you can see tons of custom home textile items. Popular items include pillowcases and cushions, but the demand for customization doesn't end there.
We will also find larger items, such as shower curtains, sheets, duvet covers, towels and covers. There is also a market for items such as door and car mats, floor mats, and cushions. The home textiles market is growing and shows no signs of stopping anytime soon.

Boutique Fashion Products: Fashion- oriented stores that were looking to pull out next season's trends a year in advance are over. Consumers and retail stores are now demanding shorter lead times and smaller order quantities to keep up with the ever-changing pace of fashion trends.
One success story is that of Joe Werner, CEO of Before + Again, who started his women's fashion line in 2008 during the recession. Constantly changing his fashion pieces thanks to sublimation. "As a manufacturer, our ability to transform highly creative parts with minimal costs fits well in a market that was nervous about high inventory levels," he said. "And in the fashion business, it's key to be able to react quickly to what's trending now and restock the product instead of waiting months for foreign products, which also require larger orders. Our equipment, design and production processes allowed us to mitigate risk for stores and provide a huge number of creative options to consumers. "
---