How to prevent dye migration in DTF printing?
---
What is Dye Migration
Dye migration (color migration) is the movement of dye from one dyed material (e.g. T-shirt fabric) to another material (DTF ink) in contact with the dyed material by diffusion at the molecular level. This phenomenon is commonly seen in printing processes that require heat treatment such as DTF, DTG, and screen printing.
Due to the sublimation characteristics of dispersed dyes, any fabric dyed with dispersed dyes is very susceptible to color migration during subsequent treatment (e.g. printing, coating, etc.), processing, and use of the final product. Essentially, the dye is heated to change from a solid to a gas. In particular, dark-colored fabrics such as T-shirts, swimwear, and sportswear are very susceptible to color migration by sublimation when stamping white or light-colored graphics and logos.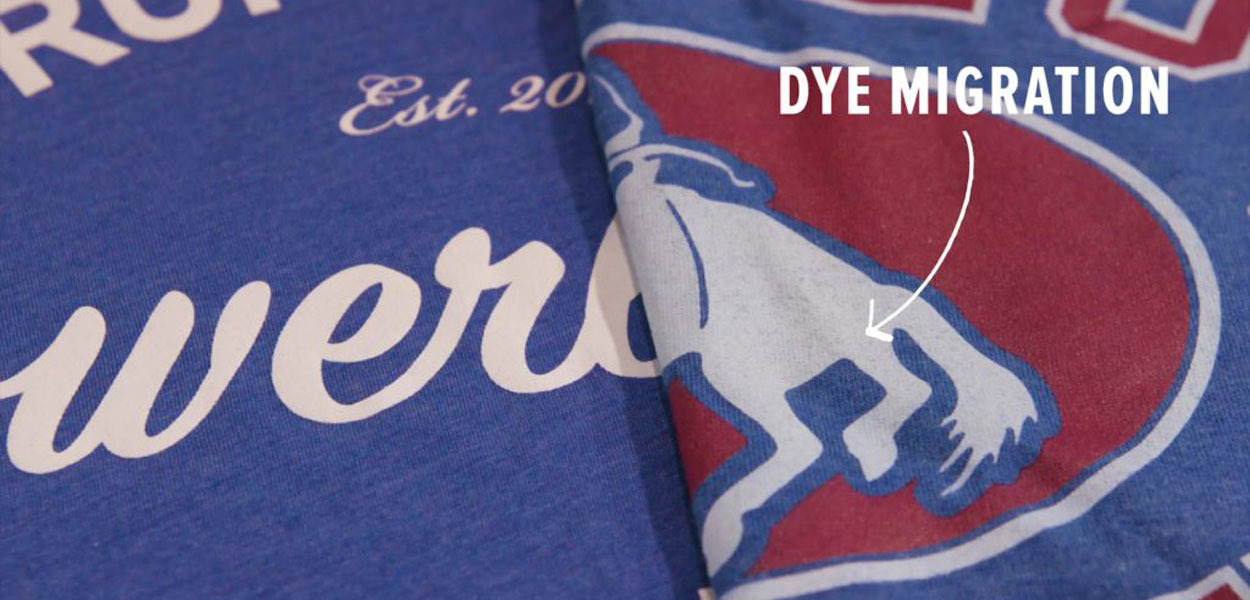 This heat-related defect is costly for print producers, especially when dealing with expensive performance garments. Severe cases can lead to product scrapping and irreparably large financial losses to the company. Taking measures to prevent and predict trial dye migration is an important key to achieving good print quality.
How to Prevent Dye Migration in DTF Printing
Some DTF print producers try to stop migration by thickening the white ink. But the truth is that when you have thicker ink, you need more heat. It will just take longer and eventually get worse.
What you need is a proper DTF application scheme, and the key is to choose DTF inks with bleed resistance and anti-sublimation DTF hot melt powders that will do a good job of avoiding dye migration.
Bleed resistance, i.e. the resistance of the ink to accept dyes on clothes, is determined by the chemical nature of the ink, the degree of completion of ink curing and the degree of ink deposition. Hanrun Paper® DTF Ink has good bleed resistance and effectively solves the problem of color migration during the transfer process. This ink is fine-grained, stable, and prints smoothly without clogging the printhead. It has passed the rigorous OEKO test and is environmentally safe, virtually odorless and requires no special ventilation.
Anti-sublimation DTF hot melt powder can build a firewall to isolate the migration channel of single molecules of dye. Hanrun Paper® offers two products for your application, DTF Anti-Sublimation White Powder and DTF Anti-Sublimation Black Powder. Both products are made from imported high quality, high purity raw materials, and have a soft, flexible feel after curing while being highly viscous and resistant to washing and abrasion. It is designed to resist sublimation and block color migration from dark fabrics.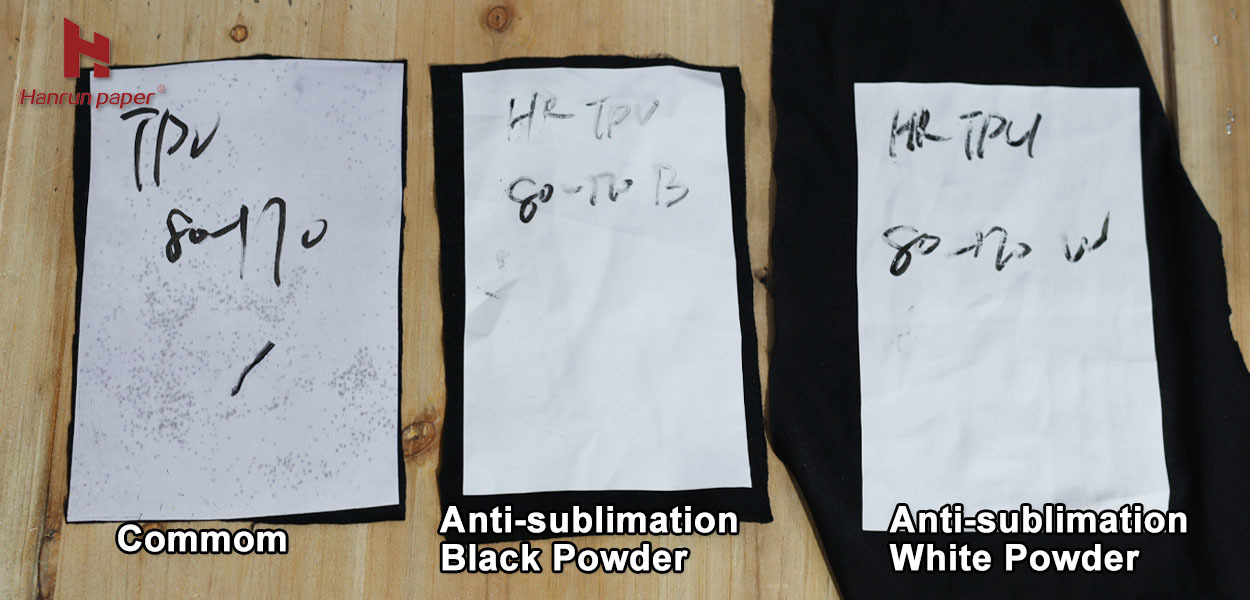 How to Test for Dye Migration
Test garment fabrics for color migration and select the low permeability DTF ink and DTF hot melt powder that best suits the garment composition and application.
1. Select the inks and powders to be tested and set up a comparison group experiment.
2. Print only white ink on the fabric (the effect will be more obvious) and keep it for three months or longer.
3. Visually inspect the whiteness of the print after the three-month holding period.
4. To speed up the test, you can store it at high temperature for 5-8 days.
Watch Hanrun Paper® product testing video>>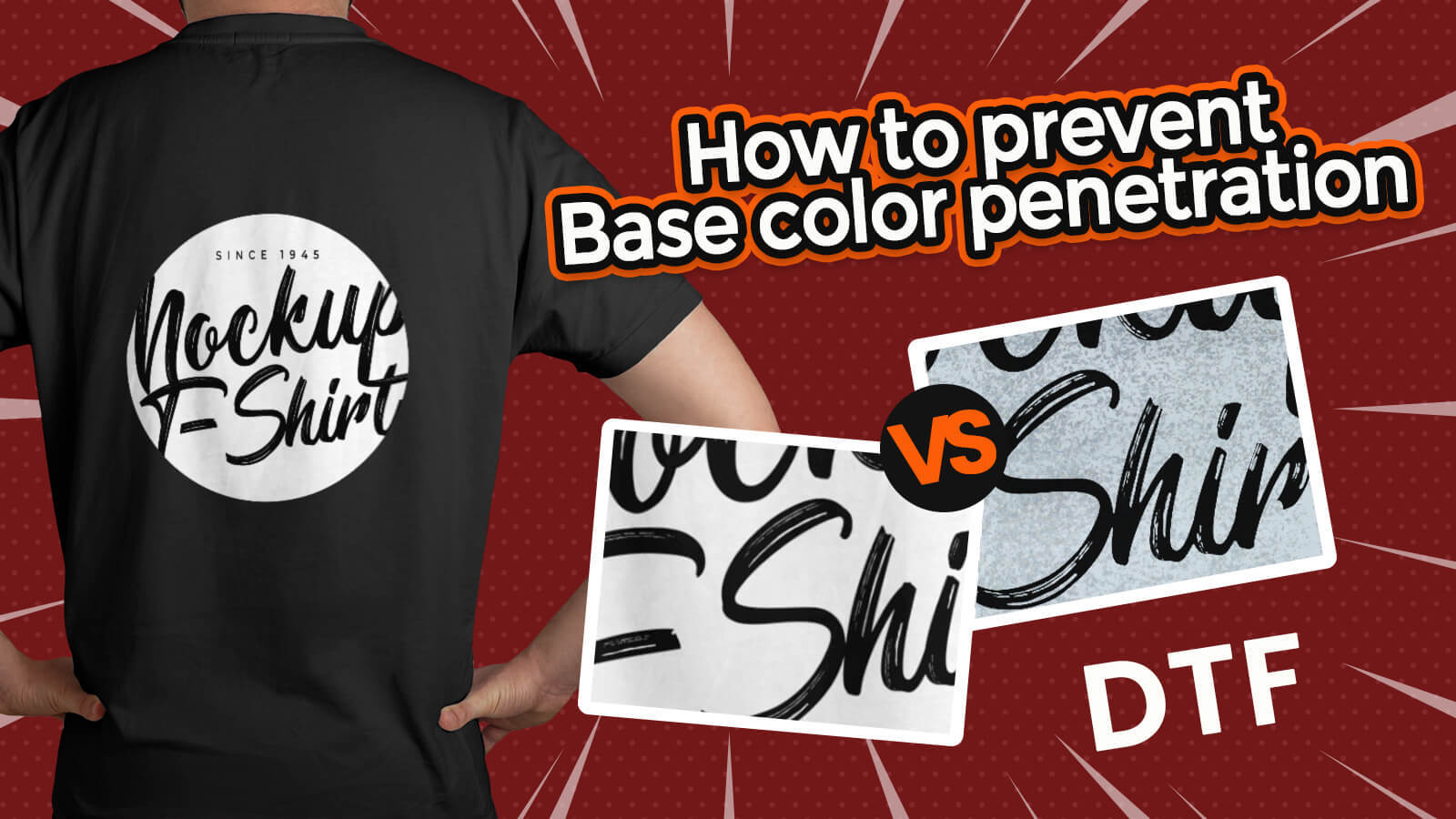 To achieve a more perfect printing result, we recommend you to use both DTF printers and DTF film of the same brand.
If you want to know more, please click the contact information below, Hanrun Paper® is at your service.
---