105Gsm Sublimation Paper: 10 Seconds Extremely Instant Drying
---
The demand for large-scale batch production has prompted the gradual increase in the printing speed of printers, and large-format sublimation printers are becoming more and more popular. However, if the sublimation paper is not fully dried in time, no matter how advanced the printer technology is, the production efficiency will still be affected.
To address this challenge, Hanrun Paper® is constantly researching new technologies and innovative sublimation coating formulations to enable faster drying of our sublimation paper.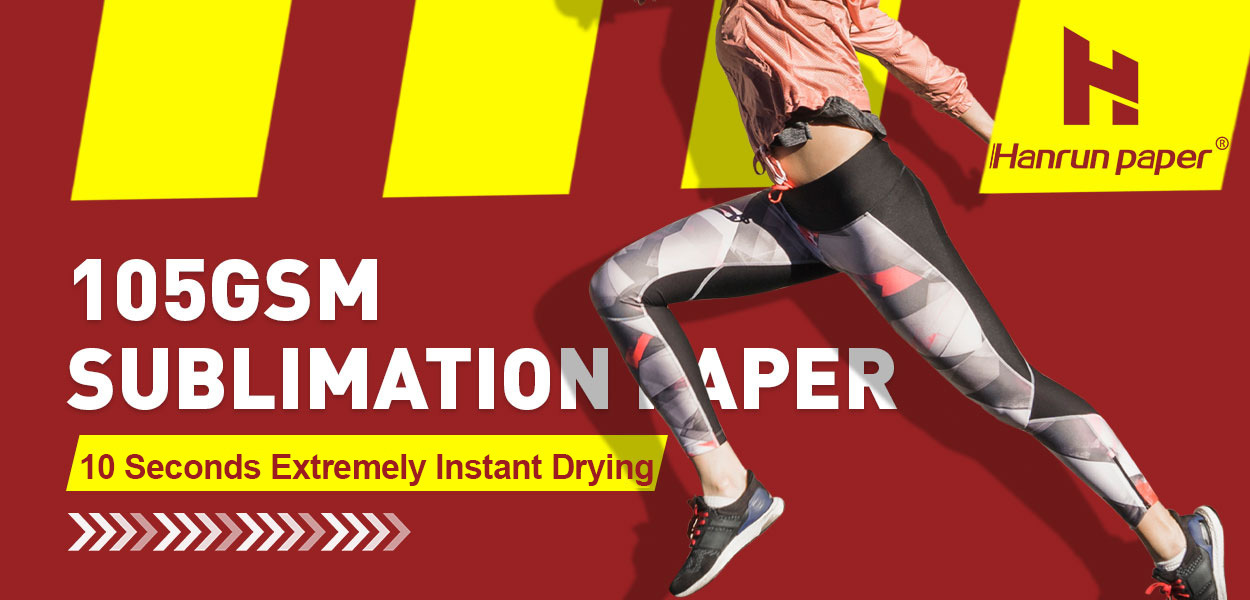 Hanrun Paper® 105gsm Extremely Instant Dry sublimation paper can dry quickly in 10 seconds! (watch the video)

This sublimation paper does not curl and dries extremely fast, which not only allows for high-speed printing on large format printers but also reduces heater power, significantly reducing costs and increasing productivity. The high release characteristics of this paper allow for superior color density transfer while reducing ink loading.
It has passed numerous product tests and operates successfully on thermal sublimation printers from well-known brands such as EPSON, Mimaki, Roland, Mutoh, etc.
Applicable substrates:
polyester nylon / spandex / polyester / canvas / silk / linen / chiffon / hard surface ...

Application scenario:
- Sportswear, such as cycling wear, surfing wear, swimwear ...
- Home furnishings, such as curtains, cushions, tablecloths, mouse pads ...
- Advertising: flags, banners ...
- Hard materials: ceramics, metal plates, skis, mugs ...
Hanrun Paper® sublimation paper series has been widely appreciated by users all over the world for its prominent quality. The high quality and uniform coating to guarantee superb spreading. Not only does it has excellent and fast transfer characteristics, but it also has wonderful line definition. We have passed many certifications such as FSC and MSDS.
If you want to know more, please click the contact information below, Hanrun Paper® is at your service.
---
Contact Us
Global sales e-mail: info@hanrunpaper.com
Global sales WhatsApp: 0086 177 1453 7154
Address: No.10 building, Baijiahui Innovation Community, 699-18 Xuanwu Avenue, Nanjing, China
---