Free Sample! One-Stop Printing DTF Kit
---
Have you ever struggled with "how to choose" when facing the uneven DTF consumables on the market?
Have you ever encountered a scene in DTF printing where the same film and powder are used, but the printing results are significantly reduced simply because the ink has been changed?
Without the guidance of a professional, you must be racking your brains over these problems and can't figure them out.
Actually, the reason is simple. As we have stressed countless, if you want a perfect print, the quality of your consumables cannot be ignored, and it is equally important to use a combination of DTF consumables that work perfectly together.
Hanrun Paper® is always committed to helping our customers improve their printing quality from the perspective of their practical needs.
This time, we bring you a one-stop solution that saves time, effort and heartache. Hanrun Paper® technicians have developed the best combination of DTF kits after many tests. DTF ink, DTF powder and DTF film are included in each DTF kit.
KIT 1 CMYK 4-color DTF Solution
- CMYK 4-color DTF printer for 2/4 printheads (30cm, 60cm, 120cm)
- Wonderful coloring performance
- Excellent continuous print stability
- Suitable for medium ink volumes
- Highly cost-effective

KIT 2 Fluorescent DTF Solution
- For DTF Fluorescent printer
- Add DTF fluorescent ink
- Gorgeous neon print effect
- Widening DTF color scheme
- Make personalisation even brilliant
KIT 3 Gradient DTF Solution
- For DTF Gradient Printer
- Add DTF gradient ink
- Solves whitening and fading problems
- Increases color density
- Exquisite color gradation

Choosing a DTF kit is more favorable than a combination of individual products and will save you time and effort in selection. The number of products in each DTF kit is based on regular usage and can be used for one production cycle. In addition, Hanrun Paper ® professional customer service and technical guidance will provide you with a complete after-sales service. We can recommend the right consumables for your DTF printer and fabric, solve problems in your application and increase your productivity.
If you want to test, Click here to get free samples.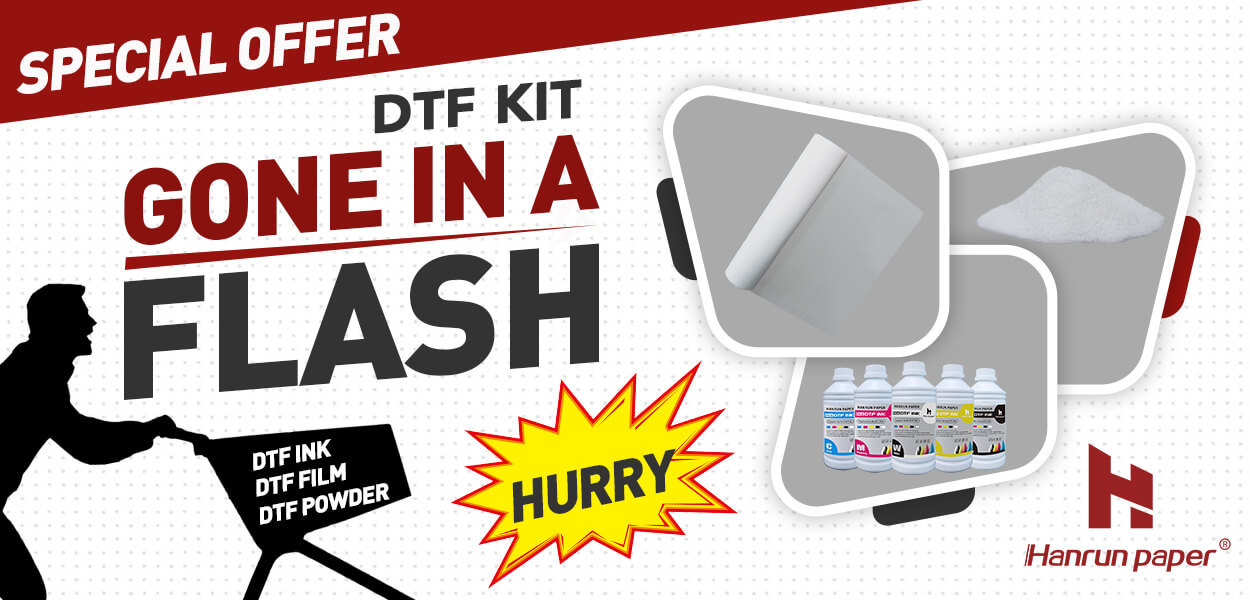 If you want to know more, please click the contact information below, Hanrun Paper® is at your service.
---