DTF Anti-Sublimation Powder
- White anti-sublimation powder
- Professional strong high-temperature resistant
- Good ink absorption
- Soft, flexible and solvent-free

---
---
dtf printing
dtf powder
dtf hot melt
hot melt powder
tpu dtf
dtf film
anti sublimation
undefined
Detailed Description
DTF Anti Sublimation Hot Melt Powder
This Anti-Sublimation DTF Adhesivo is designed for printing on DTF, or direct transfer film, which is a new technology for digital offset heat transfer of t-shirt heat transfer.
The DTF copolyester adhesive powder to apply to form an adhesive layer after the DTF printing process. Also called PET film polyamide, adhesive powder.
To solve the problem of color migration in DTF printing, Hanrun DTF technical team has developed an application solution to prevent color migration. In this new DTF application solution, Hanrun Paper's R&D team has developed new DTF adhesive powder and DTF inks.
This polyamide is designed to prevent sublimation, which can block color migration from dark fabrics. You can use our DTF printer to freely print the designed pattern on the coated PET film, then cover the printed pattern with this polyimide, and then transfer it to various fabrics by heat transfer machine or electric iron.
It can be used for custom jerseys, team wear, work wear, advertising jerseys, jerseys, bags and other fields. The transferred image has color retention and resistance to multiple washings. In the future, the trend will be to replace pure color HTV and Eco-solvent printable vinyl.

Parameters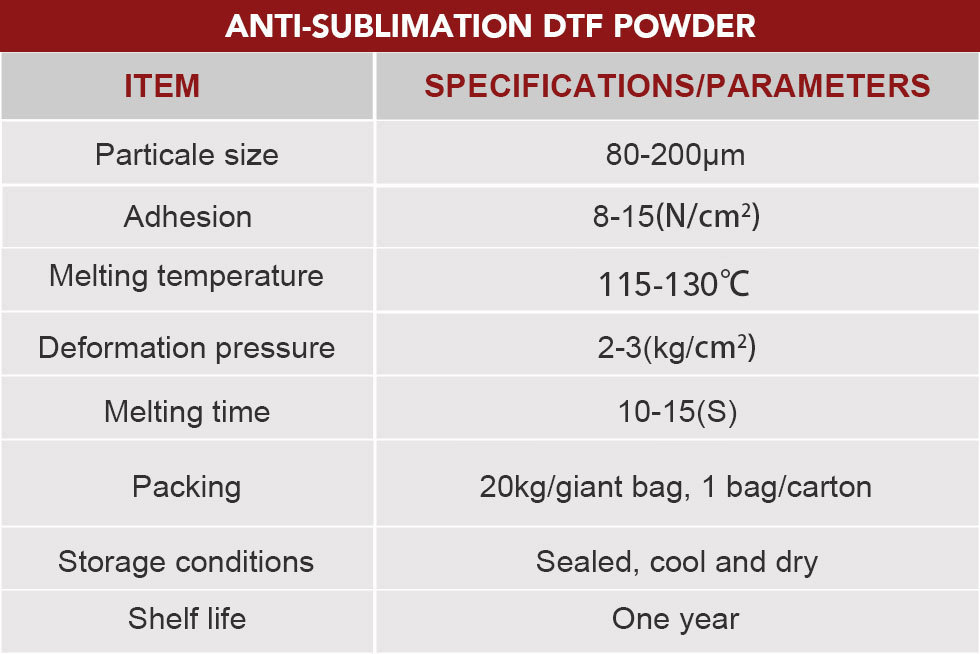 Features
● High-quality raw materials: Using imported raw materials of excellent and high purity;
● High viscosity is not easy to degumming: stick firmly, strong flexibility after curing;
● Professional high temperature resistant: durable, firm and aging resistant, high temperature resistant, soft, light and breathable;
● Have good ink absorption;
Application

Matters needing attention
-Storage environment: Relative humidity 35-65%, temperature 10-30°C, sealed indoor storage, avoid direct sunlight, shelf life 1 year.
-Precautions for washing:
We recommend washing the transferred T-shirts separately with ordinary detergent and cold water.
Do not mix with other clothes at the same time.
Do not dry clean or bleach.
Dry them immediately after washing. Or use a dryer to dry.
After washing, if the image shows signs of shedding, you can cover the image with greaseproof paper and iron it again. Do not iron the transfer part directly with an iron.