DTF MINI330 PRO Printer A3
-Printing heads: XP600/i3200
-A3 size acceptable
-12 square meters per hour capacity
-Design Software with video Tutorials

---
---
DTF printer
A3 DTF printer
DTF printing
Direct to film
printer for DTF
Epson DTF printer
undefined
Detailed Description
DTF MINI330 PRO Printer
This DTF MINI330 PRO printer is a comprehensive improvement compared to DTF MINI330 printer. It is based on a popular and reliable engine. Through the professional technical improvement of Hanrun technical team, the hardware and software are optimized. It can ensure stable and high-quality printing results while significantly improving printing speed and production efficiency. This DTF MINI330 PRO printer has significant advantages over similar systems. It is suitable for various fabric types (cotton, polyester, blended, etc.) and white and dark textiles.
Features
# Hardware upgrade, printing effect is more stable
# Increased printing speed
# The basic maintenance work of the machine can be independently operated on the control panel
# Available software: maintop, photo print (new)
# Can print A3 size wide DTF film (roll size acceptable)
# Electric Roller Feeder System
# Technical Team support with a manual and video tutorial
Application
# Washing labels for garments
# Fashion clothes(most kinds of garments and no need to distinguish colors)
# Personalized customization
# Customzied wood products
# Hard surface (for example:metal and glass)
Specifications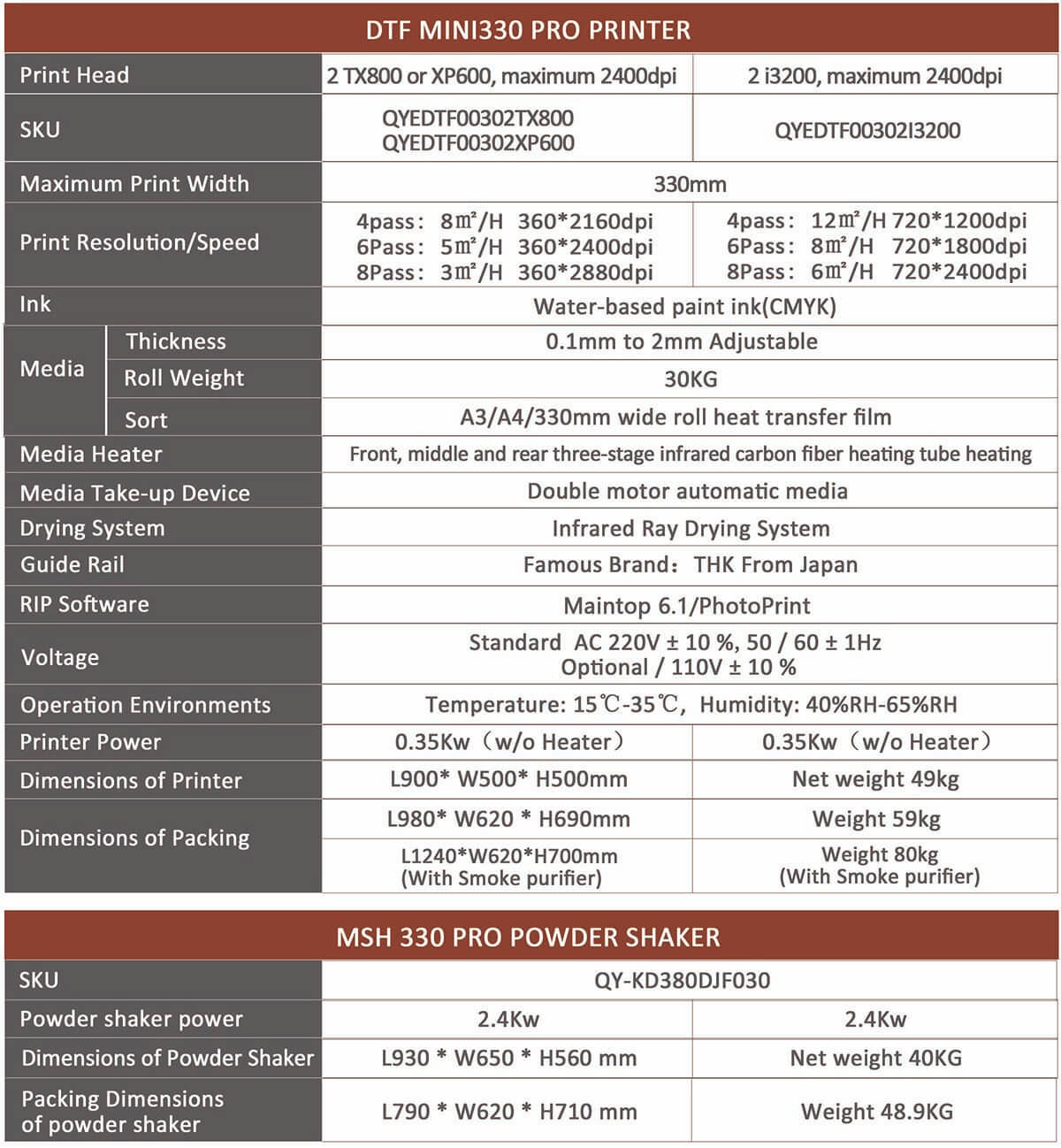 Considering the complexity of the production process, we launched this printer, special for DTF printing. This machine combined the inkjet printer and shaking powder machine, solved the limitation of the number of the machine. This innovation make the two machines into one, improve the work efficiency and reduce the labor cost.
Work Flow

What's NOT Included but you may need:
DTF Film (Evo 75μm one-sided matte, 75μm/100μm one-sided matte/double-sided matte)
DTF Powder (white powder, black powder)

Windows 7 or higher Computer (PC) with an available USB port

Heat press machine for finishing (curing) the final print

Humidifier (to keep the humidity above 40% in the print room) - recommended

Personal Training (Professional technical team support)
---
Contact Us
Global sales e-mail: info@hanrunpaper.com
Global sales WhatsApp: 0086 177 1453 7154
Address: No.10 building, Baijiahui Innovation Community, 699-18 Xuanwu Avenue, Nanjing, China