DTF Ink White Plus
-Higher color rendering
-Whiter whiteness
-Better coverage ability
-More vivid final result

---
---
dtf ink
dtf printing
dtf pigment ink
dtf pro ink
dtf
white ink
dtf white ink
anti sublimation ink
dtf anti sublimation
dtf dark fabric
undefined
Detailed Description
DTF Ink White Plus
Hanrun Paper has recently developed a new type of DTF white ink, DTF White Plus. Based on Hanrun Paper's DTF ink, DTF White PLUS Ink improves the hexadecimal color, and the extremely high whiteness makes the final printing effect more realistic and the color more vivid. And this kind of ink is more suitable for all types of printheads, is not prone to the problem of nozzle clogging, and is ideal for mass production and printing with high quality.
Features
# Higher color rendering
# Whiter whiteness
# Better coverage ability
# More vivid final result
# The nozzle is not easy to clog
Parameters
PRO DTF ink related parameters

Type

DTF Ink

Applicable printhead

EPSON I3200/4720/XP600

Applicable media

PET DTF Transfer Film

Package

100ml/250ml/500ml/1000ml

Conditions of Use

Temperature 10-30

℃

, humidity 40%-85%

Shelf life

Color ink: 1 year, white ink: 6 months
How to use
Certificate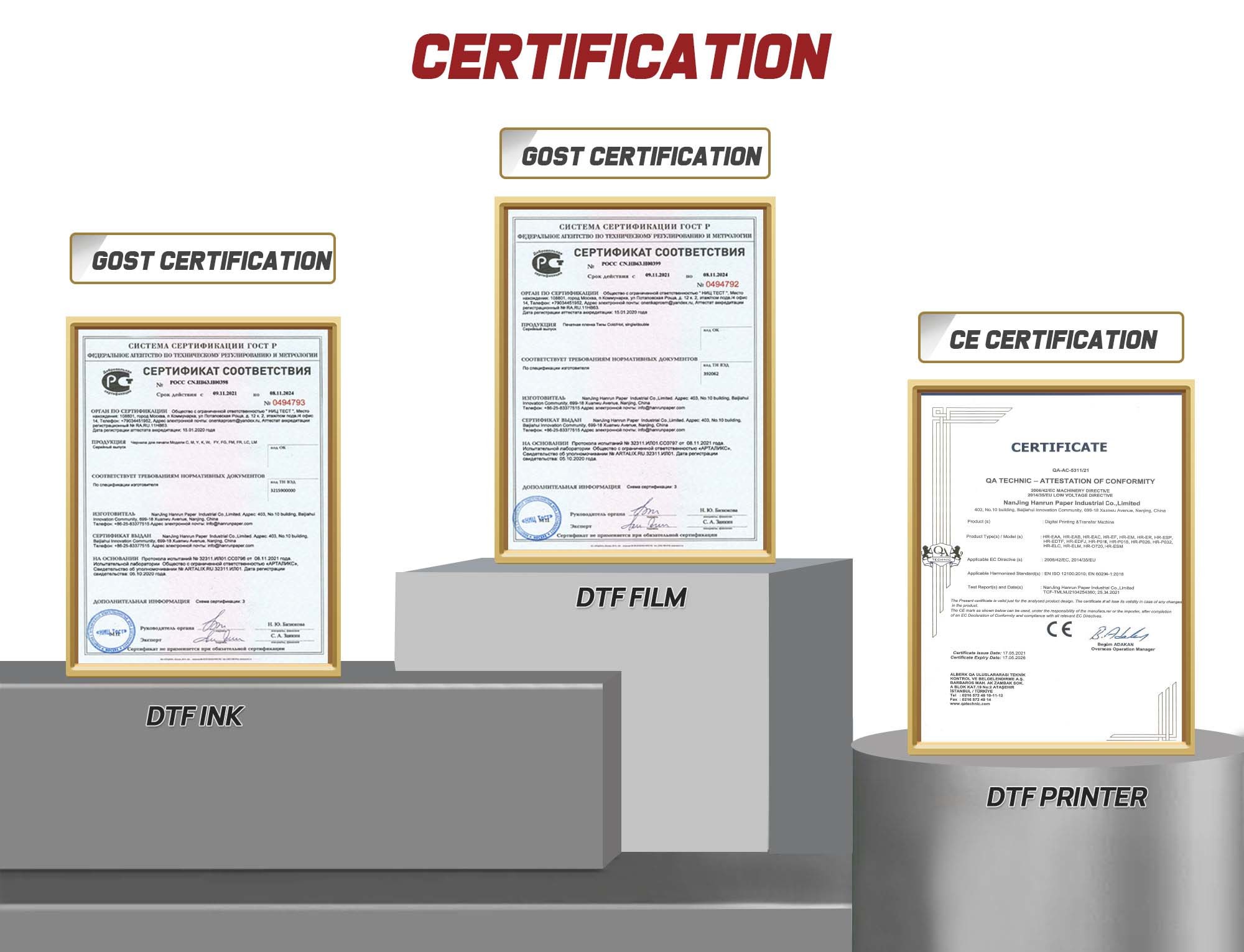 Matters needing attention
-Storage environment: Relative humidity 40-80%, temperature 10-30°C, sealed indoor storage, avoid direct sunlight, shelf life 1 year(white ink 6 month).
-Precautions for washing:
We recommend washing the transferred T-shirts separately with ordinary detergent and cold water.
Do not mix with other clothes at the same time.
Do not dry clean or bleach.
Dry them immediately after washing. Or use a dryer to dry.
After washing, if the image shows signs of shedding, you can cover the image with greaseproof paper and iron it again. Do not iron the transfer part directly with an iron.
---