H-6042UVA Multifunctional UV DTF Flatbed Printer
- Up to 600mm width, 180mm thickness.
- For various hard surfaces that are not irregularly shaped
- High precision vacuum
- High-quality printing jobs with simple operations

---
---
uv dtf
uv printer
uv for hard surface
dtf on wood
dtf printing
uv flated printer
Detailed Description
H-6042UVA Multifunctional UV DTF Flatbed Printer
Hanrun paper H-6042UVA multi-functional flatbed UV DTF printer is based on DTF printing technology, we have improved the existing UV machine, so now the pattern can be printed not only on hard surface products but also you can print on film, this will greatly broaden your application range. Now you can do your design on products that have curved surfaces or are too large to print directly.
Hanrun UV DTF technology uses A+B film technology, we use imported glue from Japan, which can be directly pasted on the material to be transferred after printing without residue. The pattern has both glossiness and a three-dimensional effect, creating a good hand feeling, and is washable and wear-resistant, can last a long time. You can print multiple images at a time, then apply them to your customized products, easy to use.
This multi-functional flatbed UV DTF printer is widely used on personalized products like glass, wood, resin, plastic, ceramic, cell phone cases, leather, label, promotional souvenirs, PVC, etc., and no other processing is required.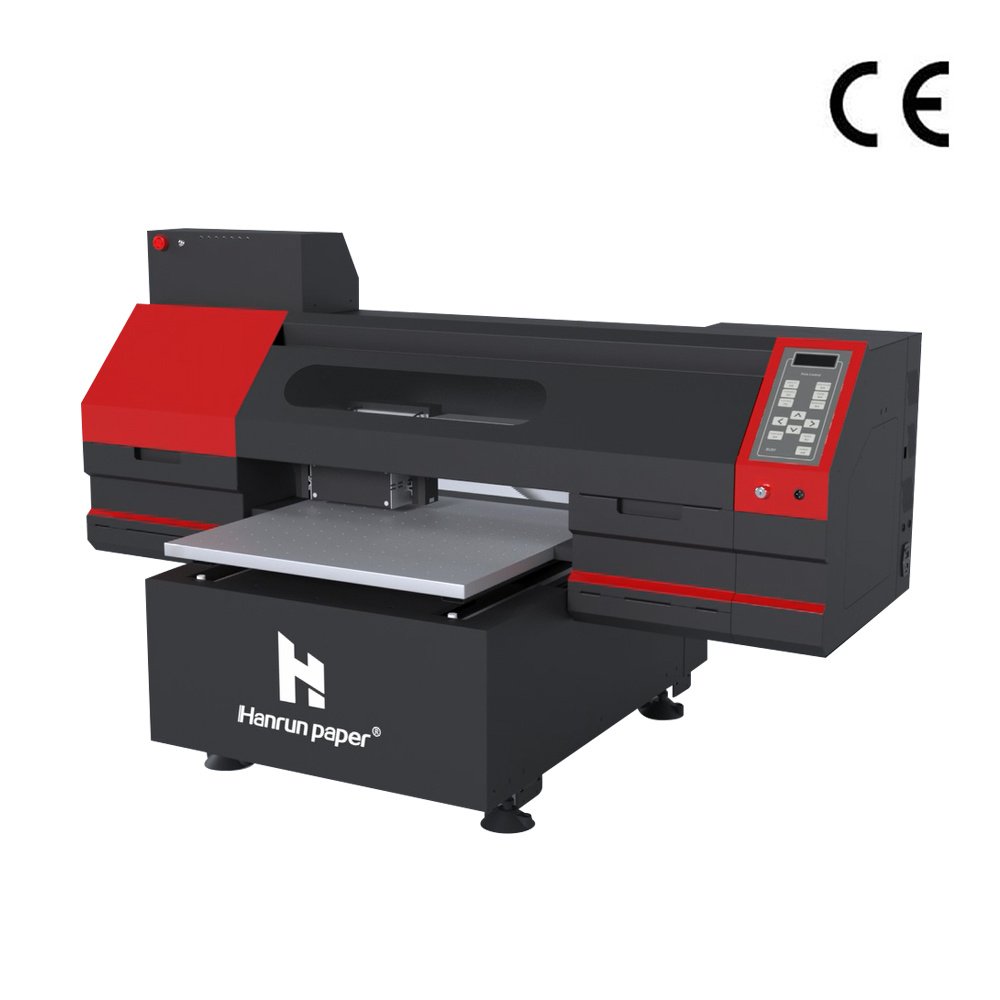 Model: H-6042

Print Width: Maxium width 600mm

Dimensions of Printer: W1772*D927*H1420 mm

Net weight: 120 KG
User guide
Features:
# High quality output, simple and efficient operation, multifunctional flatbed contains many advanced functions to complete high-quality printing jobs with simple operations.
# The overall printer cover can improve the operation safety, reduce the adhesion of dust in the printing process and ensure the printing quality.
# High precision vacuum flatbed made of aluminum alloywith a turbofan installed below can fix the media firmly.
# Up to 180mm media thickness.The beam can rise to180mm to print customized products.

Specifications:
Print Head

Double l1600-U1 Print Heads

Printing Technology

Piezoelectric Inkjet

Printing Width

600*420(mm)

Acceptable Media

Width<600mm

Thickness ≤180mm

Ink Cartridges

Capacity Color Siphon + Regular Mixing of White lnk

Color: W+CMYK+Varnish

Printing Resolution

Maximum 2400 dpi

Speed

720x900dpi (Finish Printing an A2 sheet in 10 mins)

lnk Curing Method

Dual UV LED Lights

Power

1300W

Interface

Gigabit Ethernet

Power Supply

AC 220V±5%,16A 50HZ±1

Dimension(with stand)

61.8B(W)x37.8(D)x36.4(H) in.(1572(W)x960(D)x825(H) mm)

Weight(with stand)

441lb. (200 kg)

Voltage

Standard AC 220V ± 10 %, 50 / 60 ± 1Hz, optional / 110V ± 10 %, 50 / 60 ± 1Hz

Working environment

Power on

Temperature: 59°F to 90°F [15℃ to 32℃ ]

Humidity: 35 to 80% (no condensation)

Power off

Temperature: 41°F to 104°F [15℃. to 40℃]

Humidity: 20 to 80%(no condensation)
Application:

Personalized products, wood, resin, plastic, ceramic, cell phone cases, leather, label, promotional souvenirs, PVC, etc.
Service included:
- Technical Training and guidance (Professional technical team support) Installation manual, video or Online support
- 6 months - 1 Year warranty (See the full warranty details on our guarantee page and the DTF PRO terms and conditions.)
- Dealer/partner support
- Wearing parts package

You may also need
- UV Inks
- PET Printable Film
- Positioning film
- Laminator
---