Hanrun paper sheet size wax paper
- 100% virgin wood pulp, food-grade double wax coated
- Excellent feature on waterproof, greaseproof and moisture resistance
- Degradable, food safety, easy to clean
- Custom color printing logo printing available

---
---
food wrapping paper
food packing
fast food packing
burger wrap
degradable food paper
recyclable food wrapping
undefined
Detailed Description
Hanrun paper's fruit wrapping wax paper is made of natural wood pulp and is double sides food-grade wax-coated, non-toxic, and BPA-free. The wax and wood pulp layers are perfectly integrated, thick and durable, making it non-stick (so food doesn't stick), greaseproof, and waterproof.

The reusable wax paper provides an ideal protective surface to minimize messes and It creates a seal when the bee wax wrap cools and stores food naturally; keeping your food fresh for longer with the natural antibacterial properties, keeping your food fresh, tender, and soft. Both easy to use and clean making it great for everyday use or as the perfect Eco-gift. Use nature paper fruit wrapping wax paper to store and pack fruit, which usually lasts for at least three days.

Features
• Ecological Material: 100% virgin wood pulp, food-grade material
• None PFOA, PFOS, silicone-free
• Good air permeability, greaseproof and breathability
• Can be used in freezer, oven or mircowave up to 180°C/356°F
• Bio-degradable and recyclable
• Customize size available for different occasions
• Meets SGS/FSC certification; Compliance with local food contact regulations (US FDA / Europe EU standards)
• Widely used in the mainstream fast food industry


Specifications
| | |
| --- | --- |
| Raw material | 100% original wood pulp |
| Standard gram weight(GSM) | 18-45g |
| Colour | Natural color |
| Available size | Roll size, sheet size |
| Delivery size | According to customer needs |
| Sample | According to customer needs |
*Other sizes are available, please contact us for details.


Applications
• Suitable for fast food industry, food stalls to wrapping burgers, sandwiches, chips, tacos, pizzas, etc
• It is not only for your kitchen, it can also be used in the picnic and decorative snacks
• Restaurant

Food Paper Q&A
Q1: What is PFOA?
A: PFOA is a synthetic chemical that accumulates in the body after being absorbed, affecting the normal metabolism and reproduction of the human body;

Q2: What is PFOS?
A: PFOS is a refractory organic pollutant that impacts human health and living environment;

Q3: Why does the packaged hamburger taste bad after heating?
A: During the heating process of food with "packing", a large amount of steam will be generated. The steam cannot be distributed in time, which will cause the food to not keep its soft taste.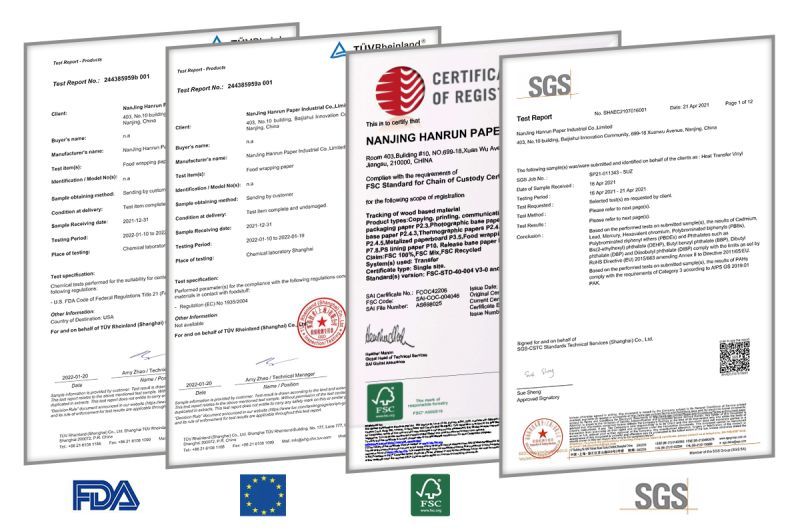 ---
Contact Us
Global sales e-mail: info@hanrunpaper.com
Global sales WhatsApp: 0086 177 1453 7154
Address: No.10 building, Baijiahui Innovation Community, 699-18 Xuanwu Avenue, Nanjing, China