High Pressure Swing Away Slide Out Heat Press Machine
Model:CH1804 Auto Open Swing Away Touchscreen control panel
---
Manual Heat Press Machine
---
undefined
Detailed Description
High Pressure Swing Away Slide Out Heat Press Machine
A heat press is a machine engineered to imprint a design or graphic on a substrate, such as a t-shirt, with the application of heat and pressure for a preset period of time. While heat presses are often used to apply designs to fabrics, specially
designed presses can also be used to imprint designs on mugs, plates, jigsaw puzzles, caps, and other products.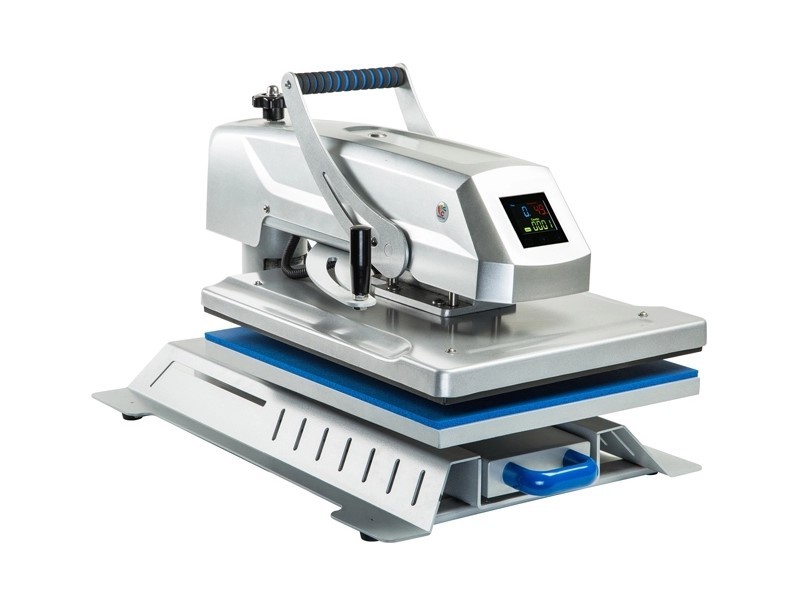 Key Features
# Control panel with touch screen, easy to read and adjust.
# Swivel arm with handle for easy lateral opening of the iron.
# Pullable design, convenient to put clothes on the bottom plate
# Higher Pressure.
# Suitable for transferring your designs onto any flat or textile product.
# Strongly designed structure for great durability.
# Emergency Stop Hands Protect Design.
Specification
| | |
| --- | --- |
| VOLTAGE | 110V/220V |
| POWER | 1400W/1600W/2000W |
| TIME RANGE | 0S-999S |
| MAX TEMP | 0-250° |
| PRINTING AREA | 38cm x 38cm(15"x15") |
| | 40cm x 50cm(16"x20") |
| | 40cm x 60cm (16"x24") |
| GROSS WEIGHT | 60KG/70KG/80KG |
| PACKAGE SIZE | 76 x 52 x 58cm |

SUCKER TYPE FOOTPAD
Whole body stability, stable operation
LCD CONTROL PANNEL WITH FULL TOUCH SCREEN
Stable performance, high accuracy
DRAWER DESIGN
Operating space is bigger and safer
Insert T-shirt Directly, avoid pattern penetration into the back
SWING DESIGN
operating space is bigger and safer, pressure more uniform
SEMI-AUTO DESIGN
Automatic open, avoid transfer overtime
HIGH PRESSURE
Suitable for high require transfer paper and vinyl film
PRESSURE ADJUSTABLE KNOB
Thick material can be printed, the heating plate will not scrape the transfer paper during swing
EMERGENCY STOP BUTTON
Stop machine work for emergencies
Instruction Manual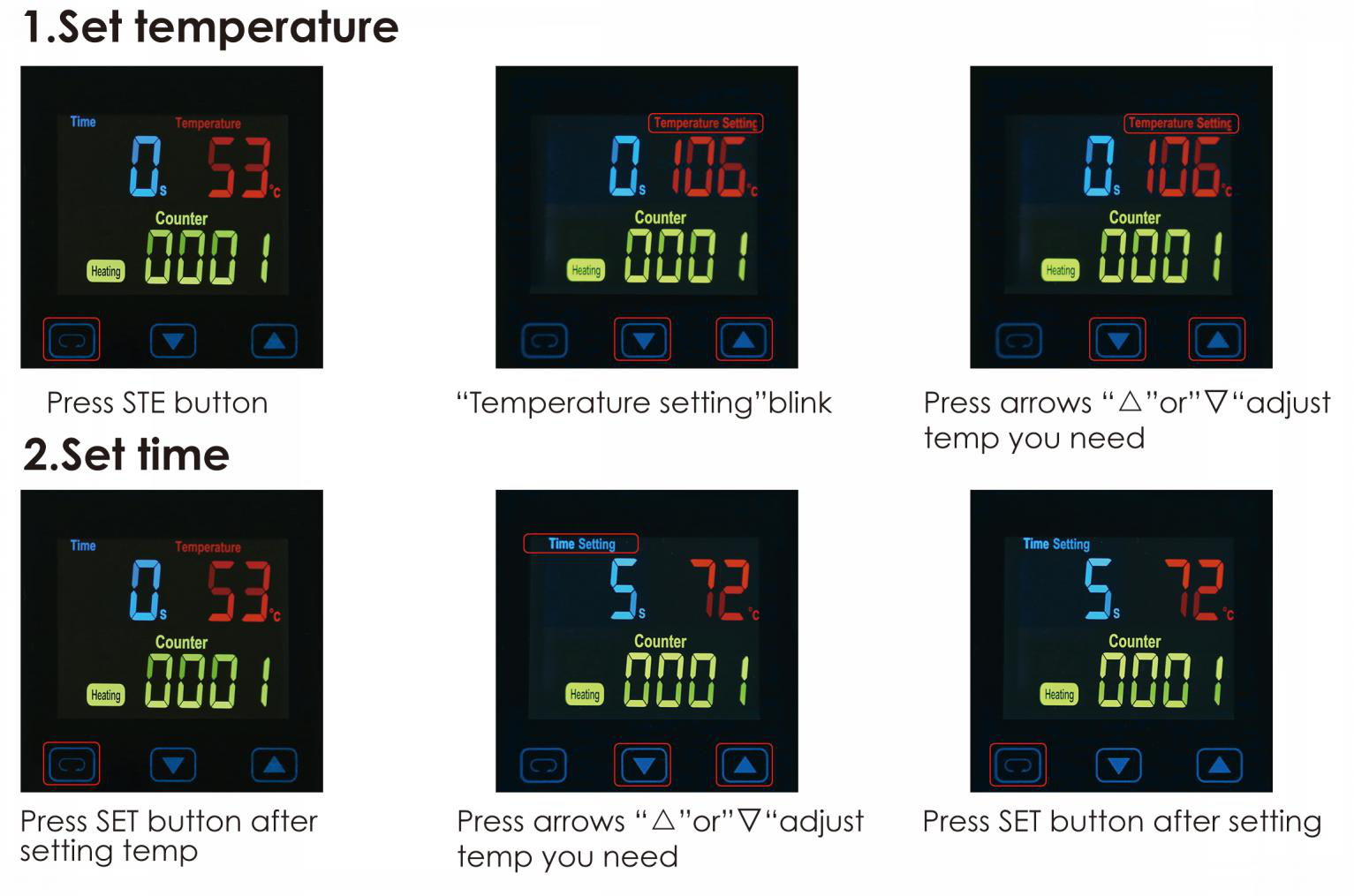 3.Printing
Connect air pipe ,adjust preassure. when the machine has reached the desired temperature, Put objects on table,push it into machine,Press the two buttons on the left and right side,machine start to press down and time,when time is up,machine open automatic,pull out the table and pick up the objects.
Comply with these instructions
1. Do not put the wire on heating plates cover.
2. Do not touch heating plates when it is energized.Caution: Risk of burns.
3. Do not open the machine box and make changes to the device.
4. Do not allow liquid or metal objects inside the hot press.
5. Make ensure the machine is connected with a plug connected to the mass.
6. Don't pull the cable to disconnect the plug.
7. Power off he machine when finish using.
8. Use extreme caution when using near children.
9. Make sure that the device is used in an environment.
Package of Shipping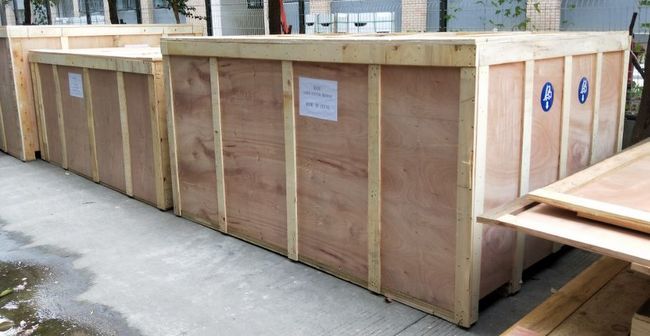 etect_browser_language":true,"languages":["en","ar","bg","zh-CN","zh-TW","hr","cs","da","nl","fi","el","hi","ja","ko","no","pl","pt","ro","ru","de","fr","xh","fy","sd","sn","gd","sm","ps","lb","ky","ku","haw","co","am"],"wrapper_selector":".gtranslate_wrapper","float_switcher_open_direction":"bottom"}