Laser Dark T-shirt Transfer Paper
-A4/A3
-Easy print and cut
-High elastic

---
---
T-shirt Transfer Paper
transfer paper
laser printer
Dark & Light 100% Cotton
dark T-shirt
A4 transfer paper
A3 transfer paper
undefined
Detailed Description
Laser Dark T-shirt Transfer Paper
Hanrun Laser dark transfer paper is suit for dark & light 100% Cotton. This transfer paper is designed suitable for all printers, ultra-thin and soft, no cracks and bright colors. It is easy to use for printing photo-quality images or other graphics that you may apply to dark color materials/garments.

Equipment Used: Laser printer; Heat press machine
Recommended Fabrics: Dark & Light 100% Cotton;
Cotton polyester blended fabric;
Cotton canvas and other home decorations
(Not applicable to nylon and fabrics with waterproof coating)
Usage Guidelines



Key Product Features
# Super elastic:
PU material super elastic bottom film, 300% stretching force does not crack, quickly rebounds without deformation, does not crack after washing;
# Super soft:
The hand feels extremely soft, without the slightest stiffness, and is comfortable to wear, achieving the perfect effect after transfer;
# Ultra-thin:
After transfer, it is highly fit to the fabric. There are printed patterns that cannot be felt, which is beyond imagination;
# Good release:
The super elastic base film can be easily separated from the base paper with a gentle tear, easy to operate;
# Good color reproduction:
Restore the color of the pattern to the maximum extent, no matter whether you use a 6-color printer or a 4-color printer, you can make the printed pattern bright and high saturation;
# Strong covering power, fully cover the fabric;
Shaking head, direct press machine, the pressure will not reveal the background color of the clothing, and the hiding power is super good;
# Light resistance and no cracking:
Cotains unique UV protection. Even if it is exposed to the sun for a long time, it will not crack.
Can make personalized T-shirts, cultural shirts, gift bags, shoulder bags, hats, sportswear, sweater mouse pads, etc.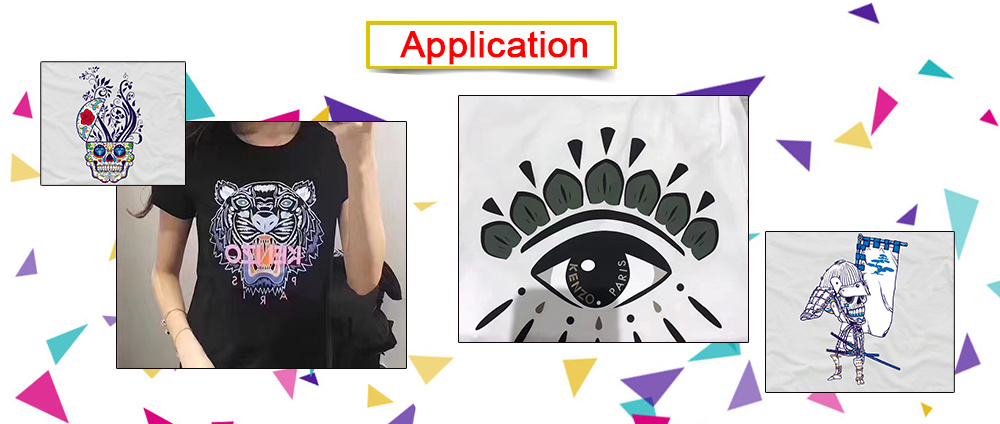 How to use:
1) Normal printer setting: the print quality is phototype. The paper must be thick paper or label paper; no mirror printing
2) Engrave patterns, speed 40-45cm/s, intensity F13-18
3) Weed away the excess pattern
4) Adjust the pressure of the transfer machine, temperature, and time
5) Pattern transfer with positioning film
6) Place the transfer paper with the image printed face up on the fabric, the back of the pattern is smoothly attached to the fabric, covered with protective tissue paper
7) When the pressing time is up, remove the protective tissue paper

Printing notes:
1) For other thermal laser printers, in order to avoid sticking paper rollers during printing, a 2cm wide and 21cm long paper strip can be attached to the paper feeding end of the printing surface. It is helpful to print over the paper!
2) Both color and white ink are acceptable.