Mini Portable Heat Press Machine
- Portable, easy to use
- Five adjustable temperatures
- Suitable for irregular surface
- Uniform heating, overheating protection

---
Manual Heat Press Machine
---
heat transfer machine
heat press machine
Portable heat press machine
small heat press machine
heat transfer iron
undefined
Detailed Description
Hanrun paper Mini Portable Heat Press Machine
MINI Heat Press Machine is a machine that presses the pattern or logo onto the transfer media. It can permanently keep the pattern onto the substrate with high temperature and pressure for a certain period of time. Heat press iron is often recommended for professional transfer printing equipment, because the standard ordinary equipment and home manual iron can not get the temperature and pressure needed for transfer.
Parameter:
Features:
1. Portable, uniform heating, overheating protection
2. Five adjustable temperatures 120°C/140°C/160°C/180°C/200°C
3. Suitable for pressing small-format and irregular products (hats, shoes, armbands, collars, etc.)
4. Automatic shutdown after 10 minutes of no use
User guide:
Place the transfer media on a flat desktop, and choose to place a silicone pad at the bottom;
1. Connect the power plug of the machine;
2. Long press the switch/temperature adjustment button at the top to enter the start-up state
3. Long press the switch/temperature adjustment button again to enter the first gear(120°C)to raise the temperature; the green light flashed when the temperature is raised, and the green light is always on when the temperature is reached;
By analogy, the temperature setting range from first gear to fifth gear corresponds to 120 °C/140 °C/160 °C/180 °C/200 °C respectively;
4. When the temperature of the heating plate begins to rise and reaches the set temperature, place the machine on the transfer media, apply appropriate pressure on the hand, and stay for a proper time according to the requirements of the transfer media;
5. Power off: adjust the temperature to the top 200 °C, and press the power off again.
Application: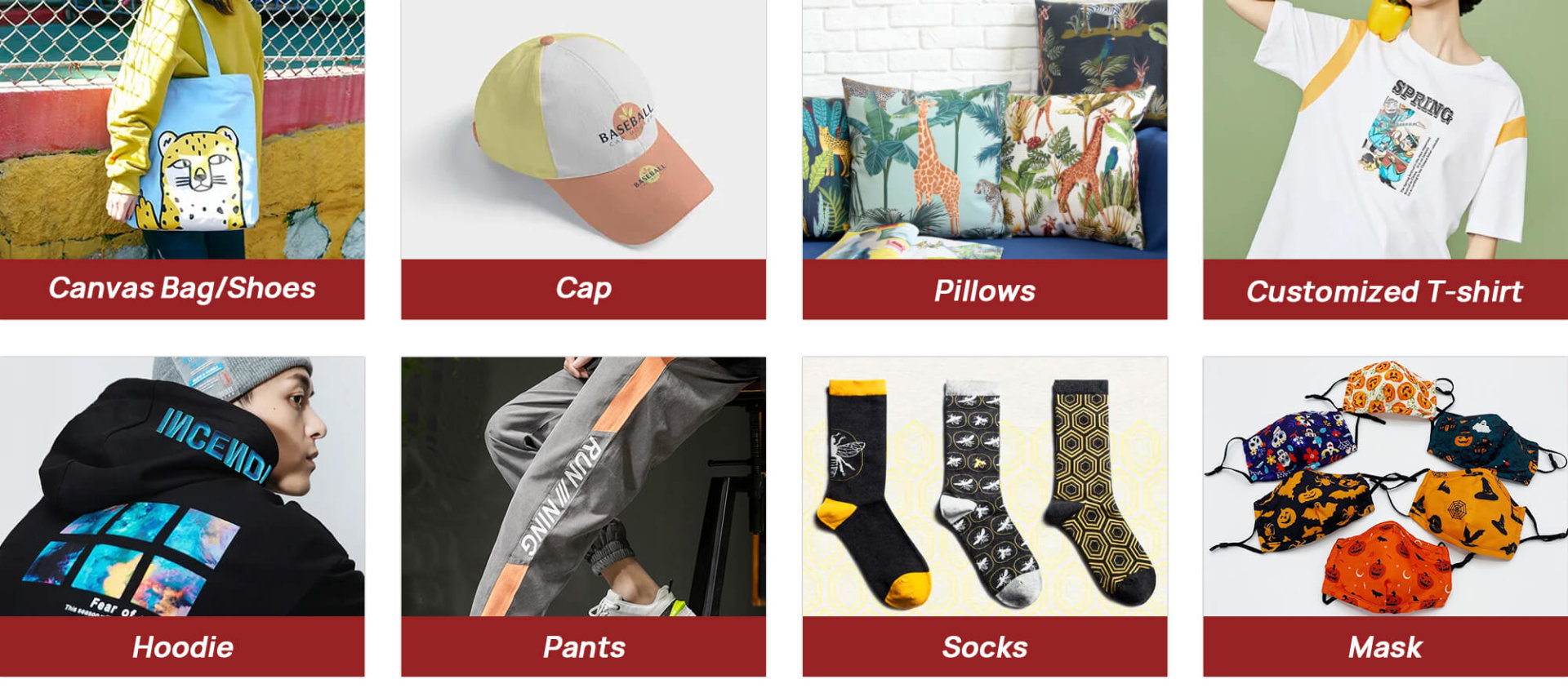 Attention:
1. Due to the different materials and thicknesses used for transfer printing, the set temperature and time are also different;
2. Please test the samples to the appropriate temperature, time, and pressure before formal use;
3. Clothing needs about 180 °C, polyester clothing and sublimation paper use time is 20-35 seconds; cotton clothing and transfer paper use time is 15-25 seconds. Please refer to the following table:
HTV:
Flock: 165° C, 25s cold peel
PU matte: 180° C, 25s hot peel
PU: 165° C, 15s cold peel

DTF: 160° C 15s cold / hot peel

Transfer paper:
Dark transfer paper: 180° C 25s
Light transfer paper: 165° C 25s

Sublimation paper: 180° C 35s (can only be used on polyester fabric)