New In Water-based Digital Printing Film
- water-based ink - used in cotton - Bright color
---
Printable Eco-Solvent Transfer Vinyl
---
undefined
Detailed Description
Hanrun® Paper Industrial Co., Ltd
Manufacturer of inkjet dye Sublimation Paper since 2009

A coating factory with our own R&D division,3 coating line for normally production daily. The coating machine max can coat 3.2m wide sublimation transfer paper. A large line of production allows more orders to be accepted.
We now offer Epson-SCF® sublimation paper, EVO® sublimation paper, Industrial Printer® Jumbo roll sublimation paper, Supreme Format® sublimation paper, Heavy weight sublimation paper, Hi-sticky® sublimation paper.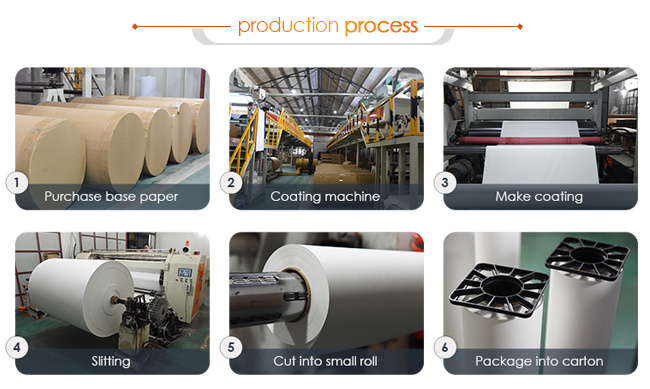 New In Water-based Digital Printing Film
WATER-BASED DIGITAL PRINTING FILM is a supplementary material and process to white ink and white glue for digital printing in dark fabric printing. The pattern printed on the WATER-BASED DIGITAL PRINTING FILM is colorful, matte, high precision, good color fastness, elastic and does not peel off. It is one of most environmentally friendly, economical and easy-to-use products on the market.
Parameter:
Materials: PU, PET
Length: 50m / Roll
Width: 40/50/60/75/100cm
Advantages
High precision, no fading
Matte effect, colorful
Environmental safety
Soft, elastic and not cracking
Production Process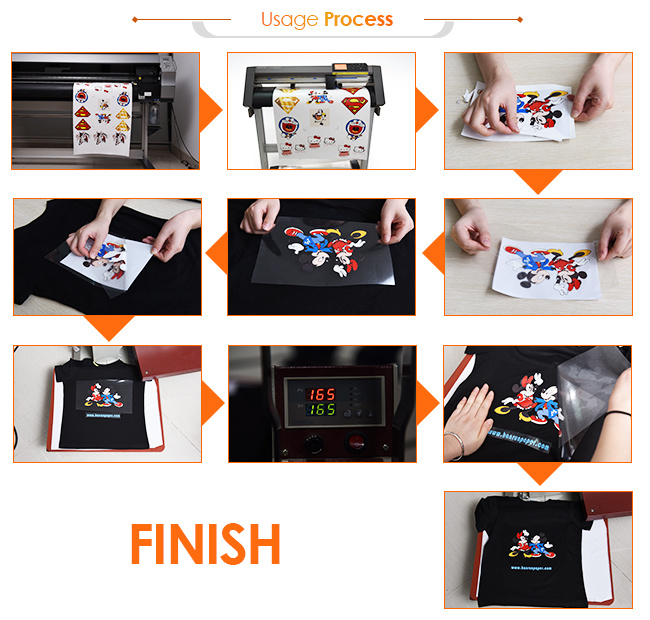 You can check the video of how to transfer by here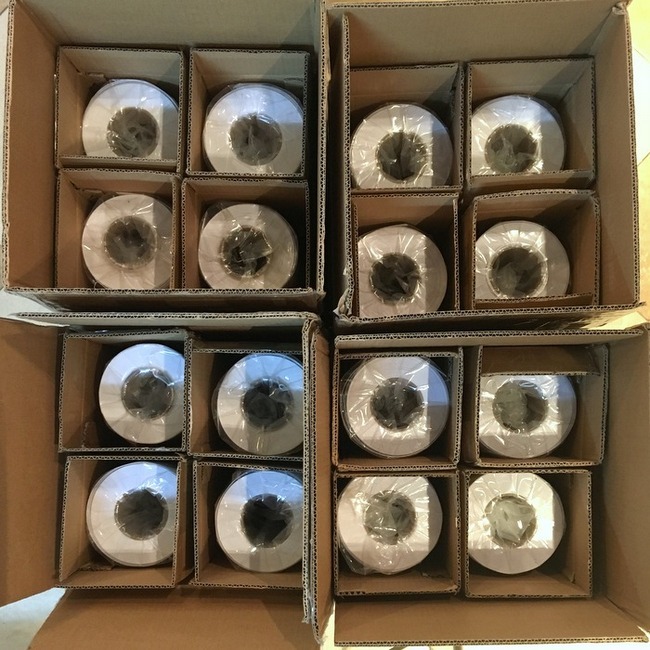 Notes:
1.Printing
(1)Be sure to adjust the ink volume before printing.
(2)Do not wrinkle the WATER-BASED DIGITAL PRINTING FILM before printing, and keep away from sweat or oil.
(3)Before pressing, make sure that the garment is dry and flat.
2.Washing
(1)Wash the garment inside out after hot pressing for 24 hours and avoid washing with washboard.
(2)Do not use strong detergents such as bleach.
(3)Do not soak for too long.
3.Use, storage, and packaging
(1)Do not touch the surface of water-based digital printing film by hand.
(2)Please seal it to keep away from moisture.
(3)Please keep away from impurities.
(4)Please keep away from alcohol and oil products.
(5)The life-time at room temperature is 1 year.
Hot sales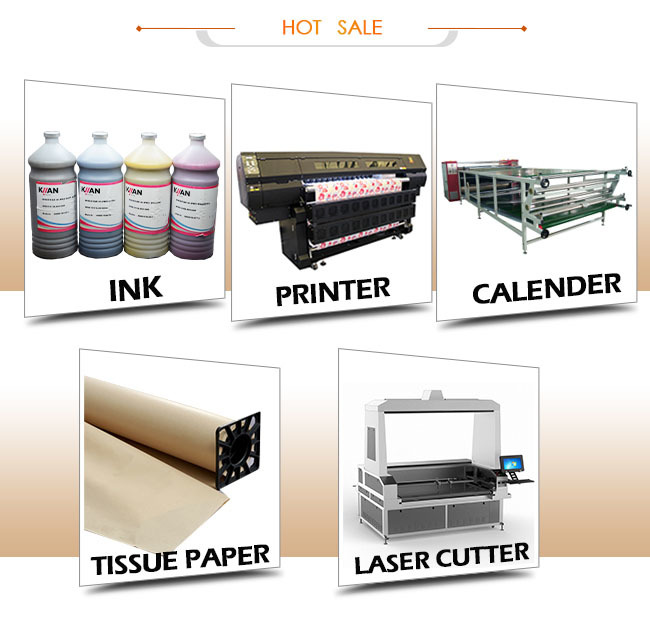 Hanrun Paper's Expo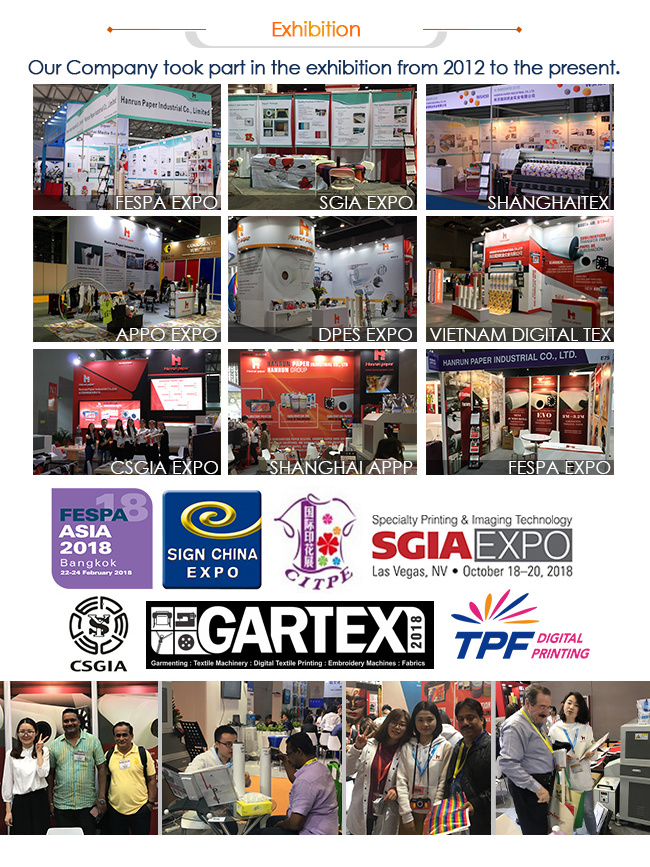 Hanrun Paper's Honour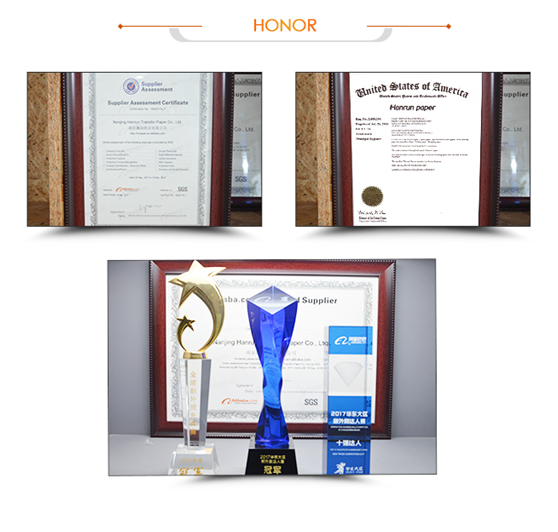 Contact Us
Globle sales e-mail: info@hanrunpaper.com
Globle sales what's app: 0086 189 3686 5061
Address: No.10 building, Baijiahui Innovation Community, 699-18 Xuanwu Avenue, Nanjing, China