Sublimation | Sublimation Paper Perfect For Epson Printer
---
The Epson SCF500/SCF570 has brought a revolution in personalization using the sublimation technique. And is not for less. This printer is EPSON's first printer made specifically for medium format sublimation and small format medium production levels.
The Epson F500/F570 came to fill that space between beginners and large format professionals. It is a dye-sublimation printer designed to simplify ease of use, save costs and improve print quality.
In this post we are going to talk about all these qualities and all the advantages it offers for your personalization business.
A big step for A1 sublimation
Until the arrival of Epson's SC-F500/SC-F570, medium format printing was very limited.
Small printers such as the Epson ET-14000 A3 format or Epson l3110 are perfect for starters but can fall very quickly when the business grows and needs higher productivity and a wider variety of customized products.
The alternative to take a further step were large format printers such as the Epson Surecolor SC-F6300 that use large format sublimation paper in which the initial investment and its size can be excessive.
The Epson F500/F570 printer fills that gap in the sublimation machinery market for professionals who have reached an average production volume and who also want to customize products larger than an A3 size.
This printer provides fast, cost-effective, high-quality prints for sublimation professionals and is designed for perfect results without any color profile complications.
Quality that saves you time and money
Print quality is synonymous with savings in both time and material costs. EPSON has taken this into account when designing this printer designed to increase your productivity and minimize your printing costs.
When we talk about costs, the first thing we think about is the price of ink, the cost of paper and the price of products to sublimate.
The jobs of the F500 ensure you a perfect impression, which translates into fewer repetitions of jobs, less waste of consumables, products to be customized, energy consumption ... and of course, no waste.
Color profiles for textiles and rigid
As you know, color reproduction in print may not exactly match the color you see on your screen due to incorrect conversion from RGB to CMYK.
The F500/F570 brings in the drivers profiles for textiles and rigid to reproduce the colors exactly as you see them on your screen, so that you will not have color calibration problems or extra costs due to printing failures.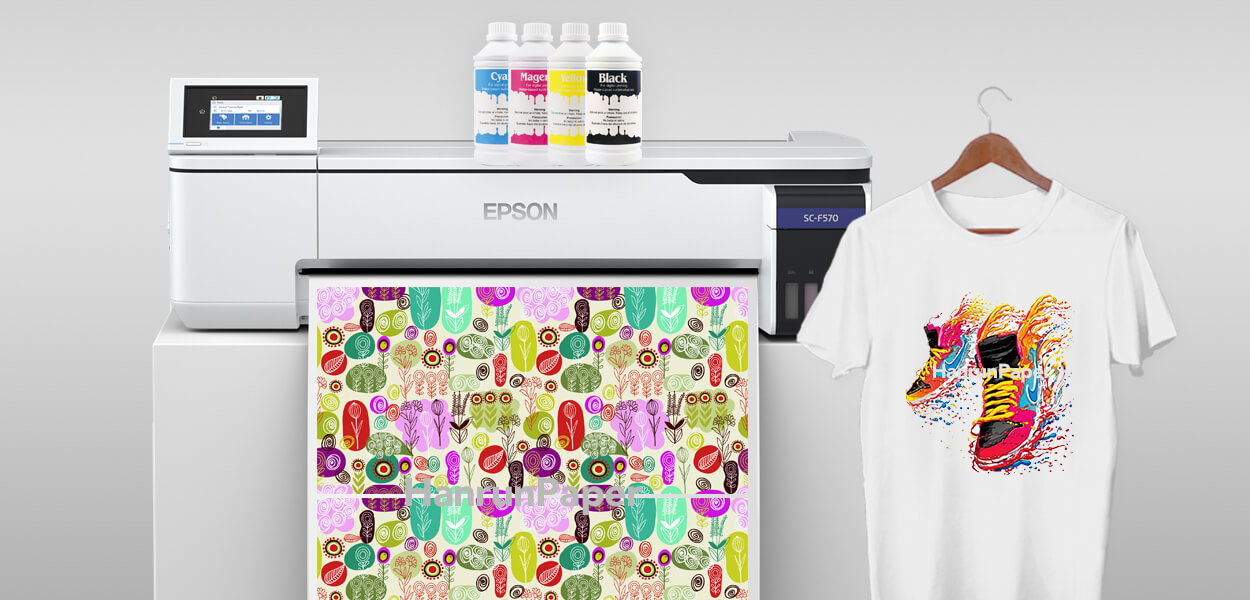 Simply select the paper you are going to use, for textiles or rigid, on the printer's touch screen or through the software. From that point on, the printer will take care of making the printing suitable for each material.
The F500/F570 printer will handle both paper and ink to ensure that you always get the highest quality from each job at the lowest cost of printing.
Minimum consumption of ink and sublimation paper
The Epson SC-F500/SC-F570 printer supports sheets of paper up to 24 inches wide, a perfect size for long runs of small jobs or medium-sized jobs. The printer allows the loading of smaller cut sheets up to A3.
Ink consumption with the F500 is practically minimal for significant cost savings.
The printer includes a cost calculator so that you know the cost of printing each job and you can know exactly what your sales margins are.
Time is money, and with the SC F500, Epson has taken it seriously.
The Epson F500/F570 is the great opportunity for expert users and the inexperienced for the ease of its configuration, operation and maintenance. And we'd designed Epson-SCF Sublimation Paper specially for Epson F570 printer, which is fast dry, high transfer yield and vivid color, with our DIGISUB sublimation ink, you can start working with it as fast as you need and don't waste time on a day-to-day basis.
---