Why Choose EPSON Printheads for DTF Printing
---
The printhead is one of the most important components of a DTF printer and is critical to the performance and quality of the print. Once the printhead is clogged or burned, it will have a great impact on the overall operating status of the machine. Most of the DTF printer manufacturers in the market today use EPSON printheads.
Why do I need to use EPSON printheads for DTF printing?
High-precision printing: Epson's micro-piezo printheads achieve superior positioning accuracy by controlling the curved liquid surface at the tip of each nozzle and utilizing Variable Size Dot Technology (VSDT), which rapidly ejects up to 50,000 ink drops per second. The curved surface control technology utilizes the movement of a precisely controlled piezoelectric element to control the curved surface. By quickly suppressing the residual vibration of the curved liquid surface, the mist generated by the residual vibration is suppressed, ensuring that large and small ink drops are sprayed straight, almost perfectly spherical, and land with superior placement accuracy.
Flexible droplet control: VSDT controls the volume of injected droplets by precisely controlling the voltage waveform driving the piezo element. Variable Size Dot Technology By precisely controlling the voltage waveform driving the piezoelectric element, the VSDT can control the volume of ink in the ejected drop. Drops as small as 1.5 picoliters (or trillionths of a liter) can be deposited in the exact amount and position required.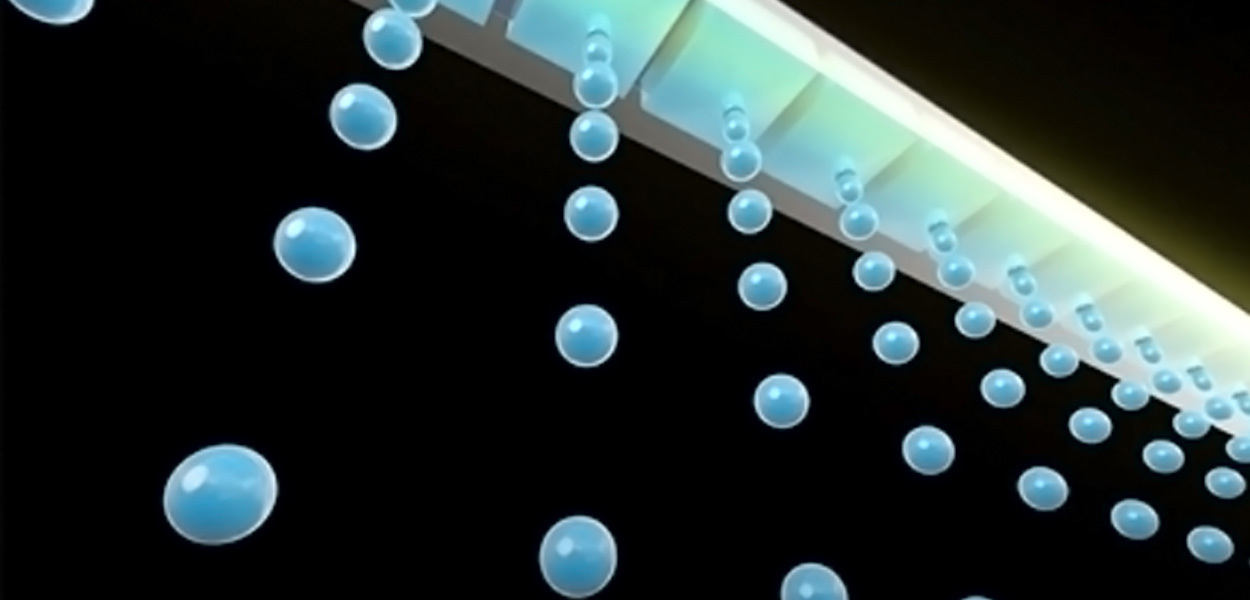 Supports fast output: Since each nozzle can selectively eject a range of drop sizes, users can enjoy fast output and beautiful image performance with virtually no graininess.
High durability: Micro piezo printheads are extremely durable because they do not suffer from heat-induced functional degradation. They are even compatible with inks whose material properties change when heated. Printers with piezo technology can use a wide range of inks, including dye and pigment inks.
EPSON printheads offer good performance and stability to meet the production demands of high resolution, durability and fast printing for high quality and efficient DTF printing.
Commonly used DTF printheads
I3200-A1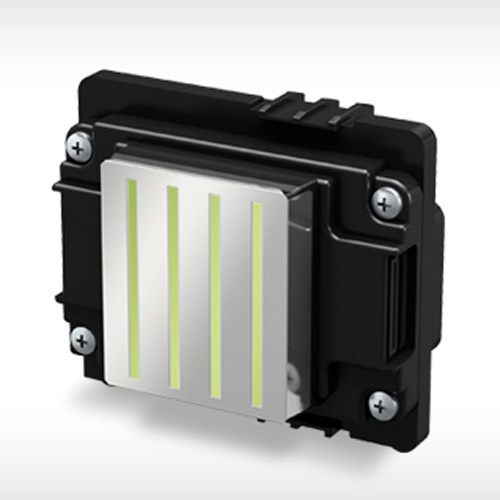 EPSON i3200-A1 is a cost-effective print head with excellent print quality, fast print speed, high stability and multifunctional support, which is a best seller in both home and industrial printers.

The i3200-A1 printhead has 3200 nozzles, supports 4-color aqueous textile ink, resolution up to 600 dpi/2 rows, and variable droplet technology for multi-gray scale printing. It uses advanced technology and materials with excellent stability and durability, enabling stable operation for long periods and reducing maintenance and replacement costs. According to EPSON's official data, it is in normal use after 106 billion times of piezoelectric endurance. After cleaning with 40KPa pressure and repeated 1500 times, the print head has no ink leakage and can be used normally.
I1600-A1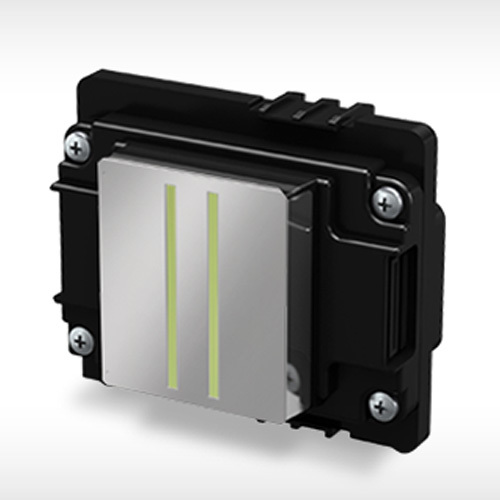 The EPSON I1600-A1 printhead is a new printhead released by EPSON in 2023 in response to changing application requirements in the end market.

The I1600-A1 printhead is typically equipped for 12-inch/18-inch small DTF printers. It has the same specifications for size, nozzle resolution, and ink droplet ejection performance as the i3200-A1. The difference between the two is that the i1600-A1 has only 1,600 nozzles, which is half that of the i3200-A1, resulting in a relatively slower print rate and a lower price.
XP600
The XP600 printhead has a 6-color print channel and a conventional output scheme of CMYK+CM or CMYK+LCLM. It is typically used in small desktop DTF printers that can print 7-color schemes, as is designed as an economical water-based printhead.

The XP600's print resolution, print speed, and durability will be less than the EPSIN I series printheads. It has a maximum resolution of 360dpi/2 rows, a print speed of 10-12 m²/h, and a printhead life of about 3-9 months. However, it is relatively cheaper and moderately stable, so it is widely accepted in the market.
Printhead Specifications
Printhead Name
I3200-A1
I1600-A1
XP600
Ink type

Aqueous

Width×Depth×Height*

69.1×59.5×35.6 mm

84.9×57.2×42.6 mm

Weight*

80g

60g

Number of nozzle

3200

1600

1080

Nozzle pitch/nozzle row

1/300 inch

1/180 inch

Nozzle rows

8 rows

4 rows

6 rows

Nozzle Resolution

300 npi/row 600npi/2 rows

180npi/row 360npi/2 rows

Max. number of colour inks

4 colours

6 colours

Effective print width

33.8 mm

25.4 mm

Droplet
ejection
performance*

Binary

6 pl at 43.2 kHz

4.5-9-20-40 pl
46kHz (single point),11.52kHz (multipoint)
3 levels grey scale

6.3, 12.3 pl at 21.6kHz

4 levels grey scale

3.8,6.1,9.4 pl at 21.6kHz

Viscosity range *

2.2-4.5 mPa·s

3~5 mPa·s

Durability

1~2 years

3~9 months

Applicable DTF Printer
All DTF printers
330/450/600/1200 mm
Small and medium DTF printer
330/450 mm
Small and medium DTF printer
330/450 mm
*Figures are reference values
Choosing the right printhead for your DTF printer

Choosing the right printhead for your DTF printer is an important decision and should not be taken lightly. There are many factors to consider when making your choices, such as the size of the print area, the type of material to be printed, and the cost of the printhead itself. The I3200-A1 is a robust and reliable choice for large-format DTF printing, while the I1600-A1 and XP600 offer more affordable options for smaller DTF printer. Ultimately, the decision depends on your printer needs and budget considerations. Each print head offers outstanding performance to help you create stunning prints.
How to maintain the DTF printhead?
Operation precautions
1. Without closing the power switch and cutting off the total power supply, do not randomly install or remove the digital printing machine's electronic components. Otherwise, it will damage the service life of each system and endanger the printhead.
2. Whether replacing or fine-tuning the printhead, do not use brute force, to replace or fine-tune the printhead following the specifications of the instrument manual.
3. Do not mix two different inks during printer operation. Different inks configuration of raw materials will vary. Two different inks mixed may cause chemical reactions that will directly affect the printing effect, or even lead to clogging of the nozzle.
4. Do not remove the printhead from the digital printing machine and leave it naked, especially in dusty places. Because the moisture contained in the ink will gradually evaporate, and the dry ink will lead to nozzle blockage. If the nozzle is blocked, it should be cleaned before use.
5. Nozzle cleaning fluid is corrosive, it is recommended to wash in moderation every time.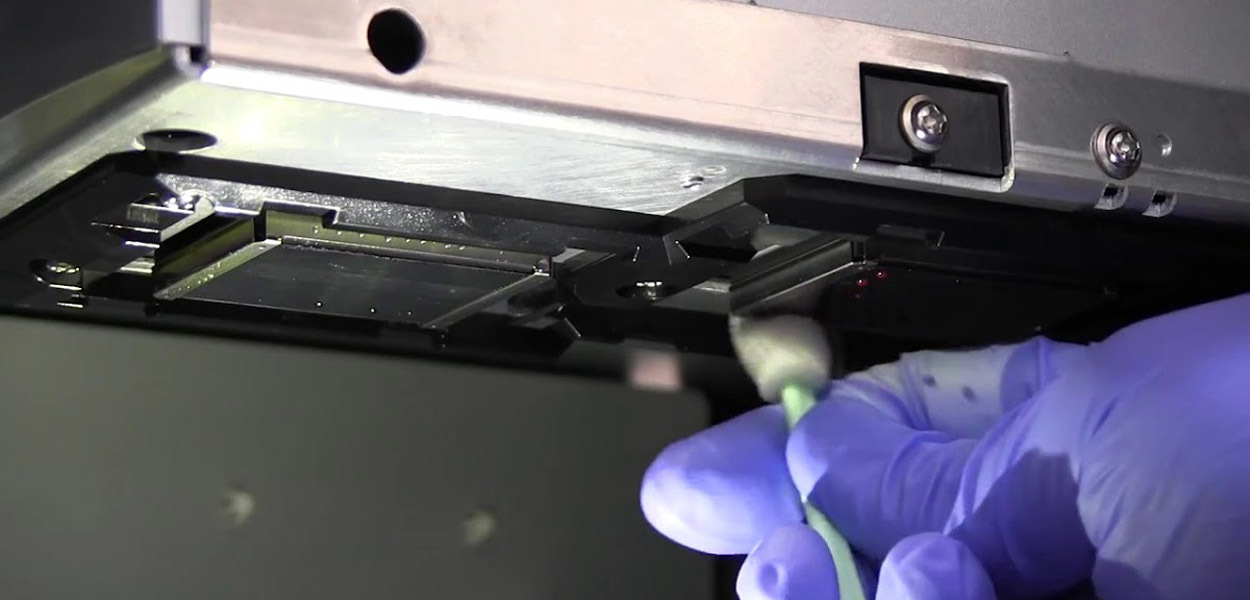 Cleaning precautions
1. Manual cleaning should be carried out in accordance with the steps in the operating requirements. Watch how to clean the nozzles>>
2. When cleaning, you can set a thin hose in the front of the medical syringe, filled with strictly filtered cleaning fluid rinse. Flushing with a magnifying glass to carefully observe the spray hole, if there is a residue of siltation next to the spray hole, use soft rubber products to remove it. The integrated print nozzles left unused for a long time will block the nozzle holes due to dry ink and can be cleaned with a particular cleaning solution.
3. Don't use sharp objects to clean the printhead, don't hit the printhead, and don't touch the printhead with your hands.
4. Don't disassemble or install the printhead while it is charged, and do not touch the electrical contacts on the printhead with your hands or other objects.

---