100gsm Jumbo Roll Sublimation Paper for Industrial Printer
Width:1540mm,1560mm,1640mm,
1660mm,1760mm,1860mm, 3200mm Weight: 45gsm, 50gsm, 60gsm,

---
---
undefined
Detailed Description
Hanrun®Paper Industrial Co., Ltd
Manufacturer of inkjet dye Sublimation Paper since 2009
Professional sublimation transfer printing one stop solution supplier
Hanrun paper is a coating factory with our own R&D division, 3 coating line for normally production daily, coating speed for 180m/day,max coating large format 3.2m wide.Now,Hanrun Paper be a one stop solution for digital sublimation printing supplier. Heat transfer printing paper, Dye sublimation printer ink, Wide format sublimation printer, Sublimation protective paper, Heat press transfers machine, laser cutting machine offered!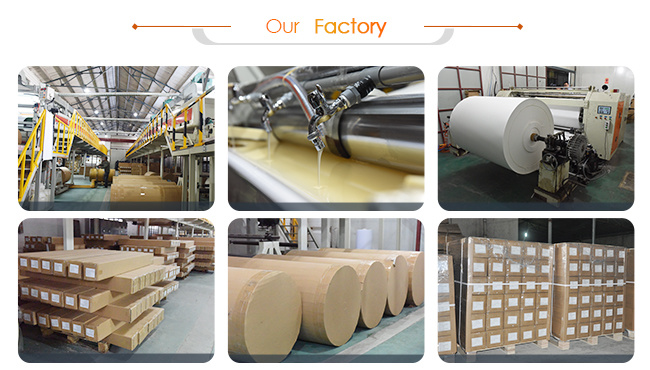 100gsm Jumbo Roll Sublimation Transfer Paper for Industrial Printer
Jumbo Roll sublimation paper can be used widely on polyester fabric, soft signature and sportswear, etc.
Now Hanrun Jumbo Roll sublimation paper has been used on MS printer,Epson F-series,Mutoh,Mimaki and with 2printheads printer.
The jumbo roll paper weight is 45gsm, 50gsm, 60gsm, 70gsm, 80gsm, 90gsm, 100gsm
This paper have great adaptation with sublimation ink like epson sublimation ink,inktec ink,kiian ink, mimakiusa ink, sensient, J-teck, papijet sublimation inkjet ink,sublinova sublimation ink.
Advantages
Slitting good, paper keep smooth
Smooth sprinting, no touch print head with solid deep color
Fast dry, fine with take-up system rolling consistently
High transfer release, brilliant color outcome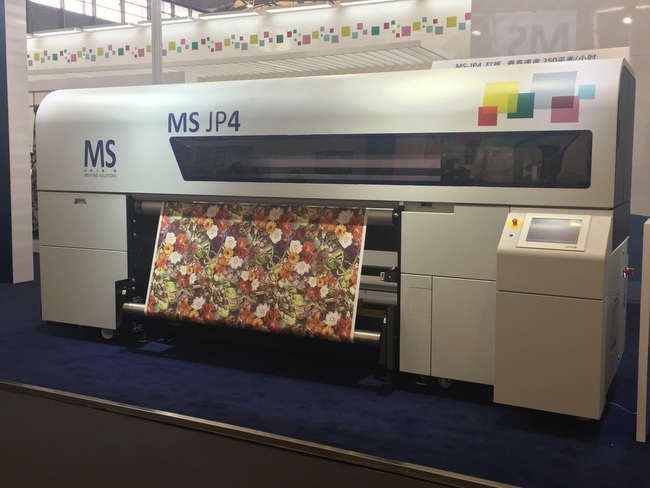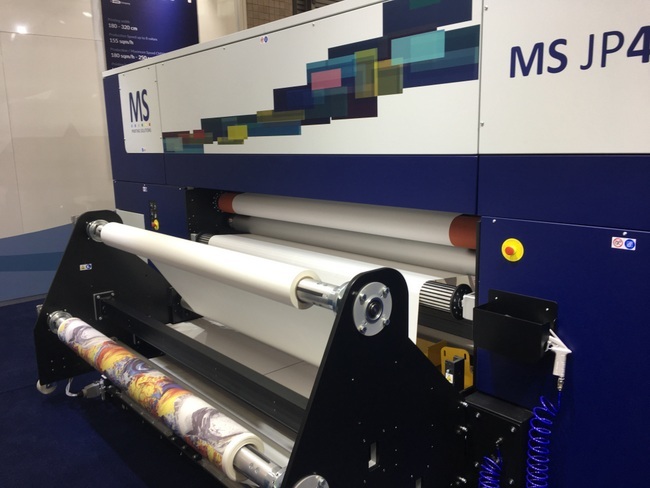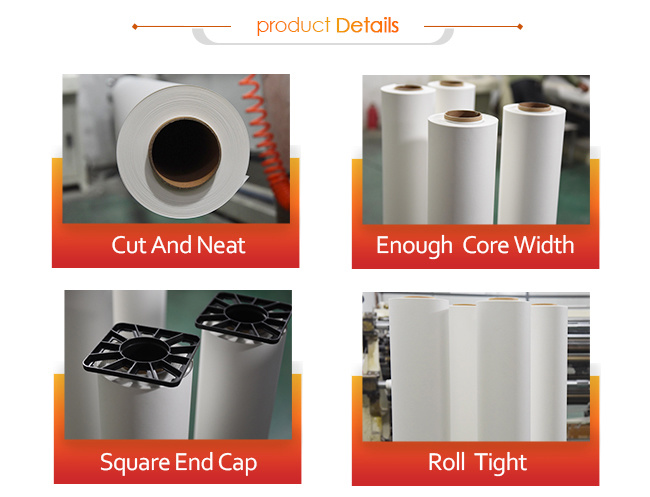 Size
Customized width & length are available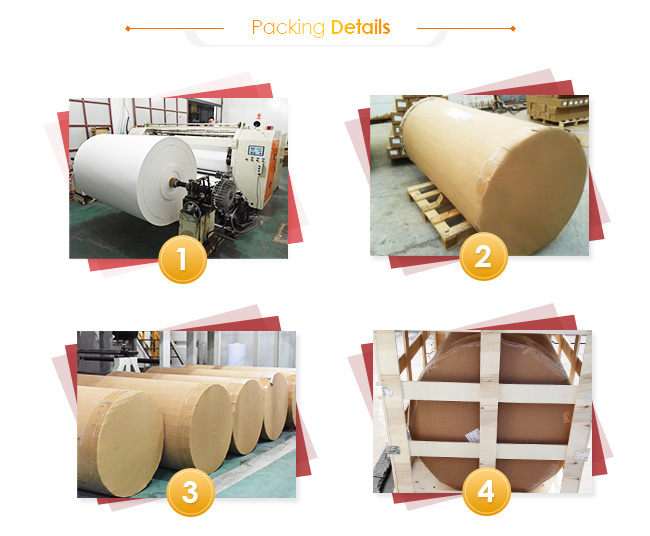 We do large printing on Industrial Printer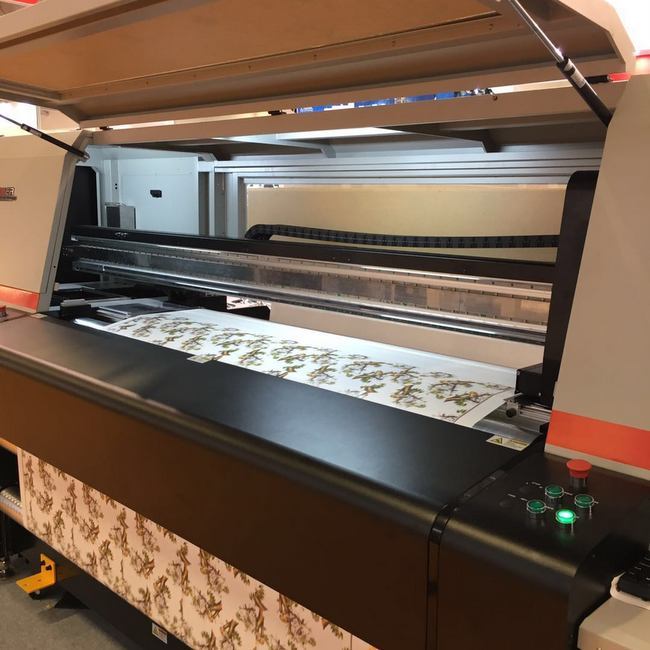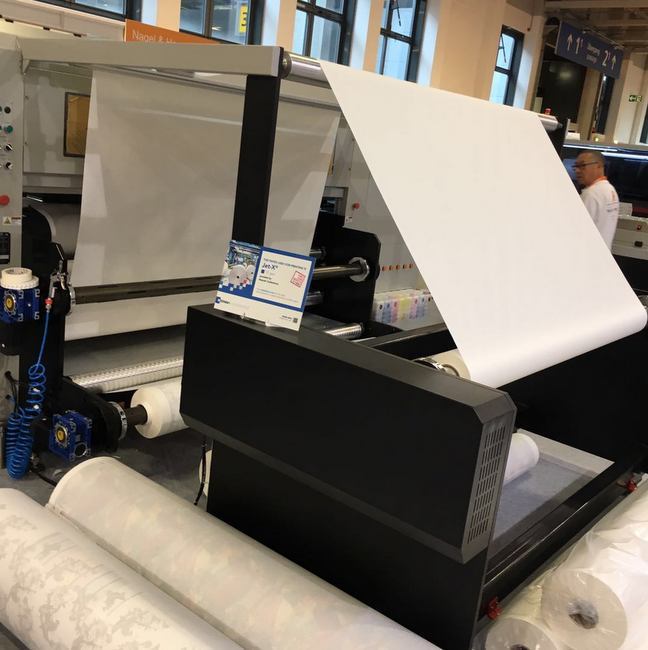 Transfer result on fabric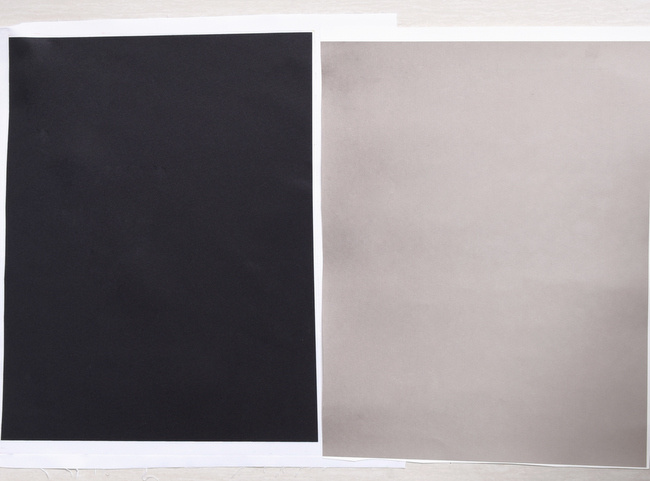 Tips for sublimation paper rolls
How to distinguish paper sublimation print side?
A: Normally sublimation transfer paper outside is print side. You can also use litter water to distinguish the print side. Sublimation paper coating layer felt sticky and adhesive.
How to storage your sublimation paper for cotton?
A: Sublimation paper rolls need be sealed, and the storage temperature around 10-30centigrade, humidity around 45-55%.
How long for roll paper sublimation use life?
A: Normal roll paper sublimation can be used for 1 year. Tacky sublimation paper can be used for 8months.
How to keep sublimation paper keep smooth not touch your print head?
A: Make printing room humidity around 45-55%, use good quality sublimation paper.
How to avoid immigration when make sublimation transfer?
A: Sticky sublimation paper be better choice.
Hot Sales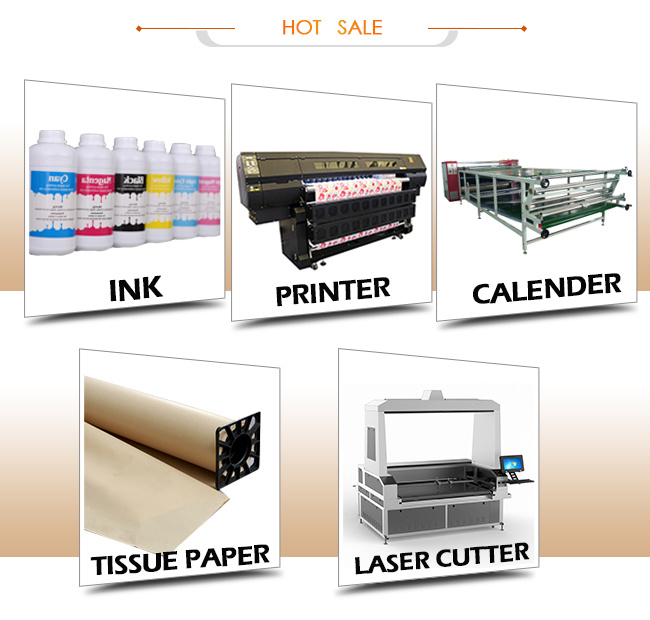 Hanrun Paper's Expo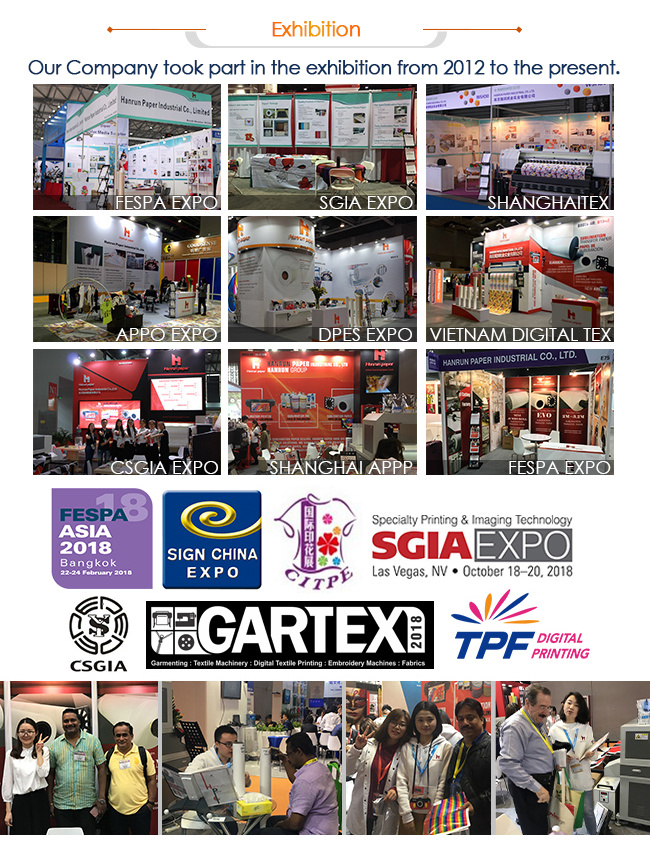 Hanrun Paper's Honors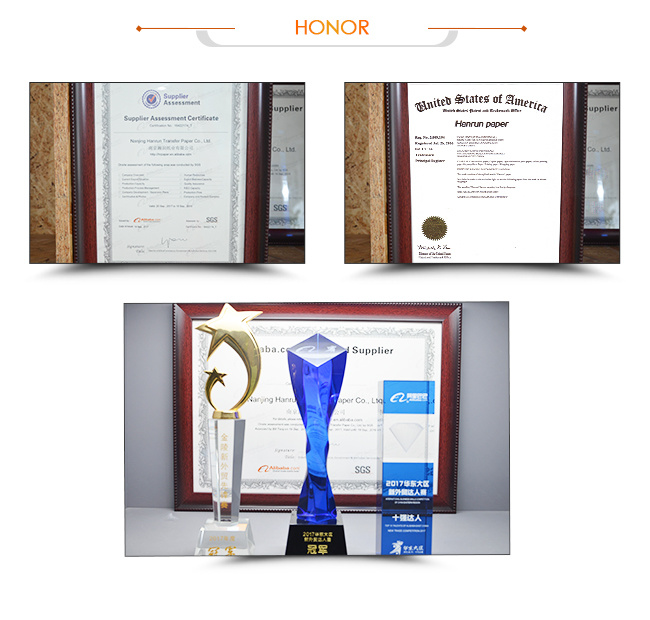 Contact Us
Globle sales e-mail: info@hanrunpaper.com
Globle sales what's app: 0086 189 3686 5061
Address: No.10 building, Baijiahui Innovation Community, 699-18 Xuanwu Avenue, Nanjing, China