100gsm Epson F-series Sublimation Paper
-Anti-curl, Outstanding lay-flat performance -Vivid and bright color on fabric -Superb and quick transfer properties -Suit for all kinds of polyester and sportswear
---
Epson-SCF Sublimation Paper
---
sublimation paper
epson sublimation paper
paper for epson
epson f570
undefined
Detailed Description
Hanrun Paper® 100Gsm Epson F-series Sublimation Paper
Hanrun Paper developed this 100gsm sublimation paper special for EPSON SureColor F-10000/ F-10080. This paper uses new paper base this time and it has ultra-high performance: double coating, anti-curling, fast dry, and excellent transfer colors. It can print with medium to high ink coverage. It is ideally suited for use on this Epson new printer, and perfectly works with Epson ink. With this sublimation paper, you will be able to print and transfer very deep colors with a maximum transfer yield.
Key Product Features
# Fast dry
# Anti-curl, Outstanding lay-flat performance
# Vivid and bright color on fabric
# Superb and quick transfer properties
# Suit for all kinds of polyester and sportswear
Application
# Transfer on all kinds of polyester textiles
# Especially designed for Epson-F 6200/6280 44'' width printer, used in the textile printing
# Apparel, sportwear, soft signage, banner/flags
Specification

Other size available(meet MOQ), please consult our account manager.
Provide customized services and sample, if necessary, please contact us.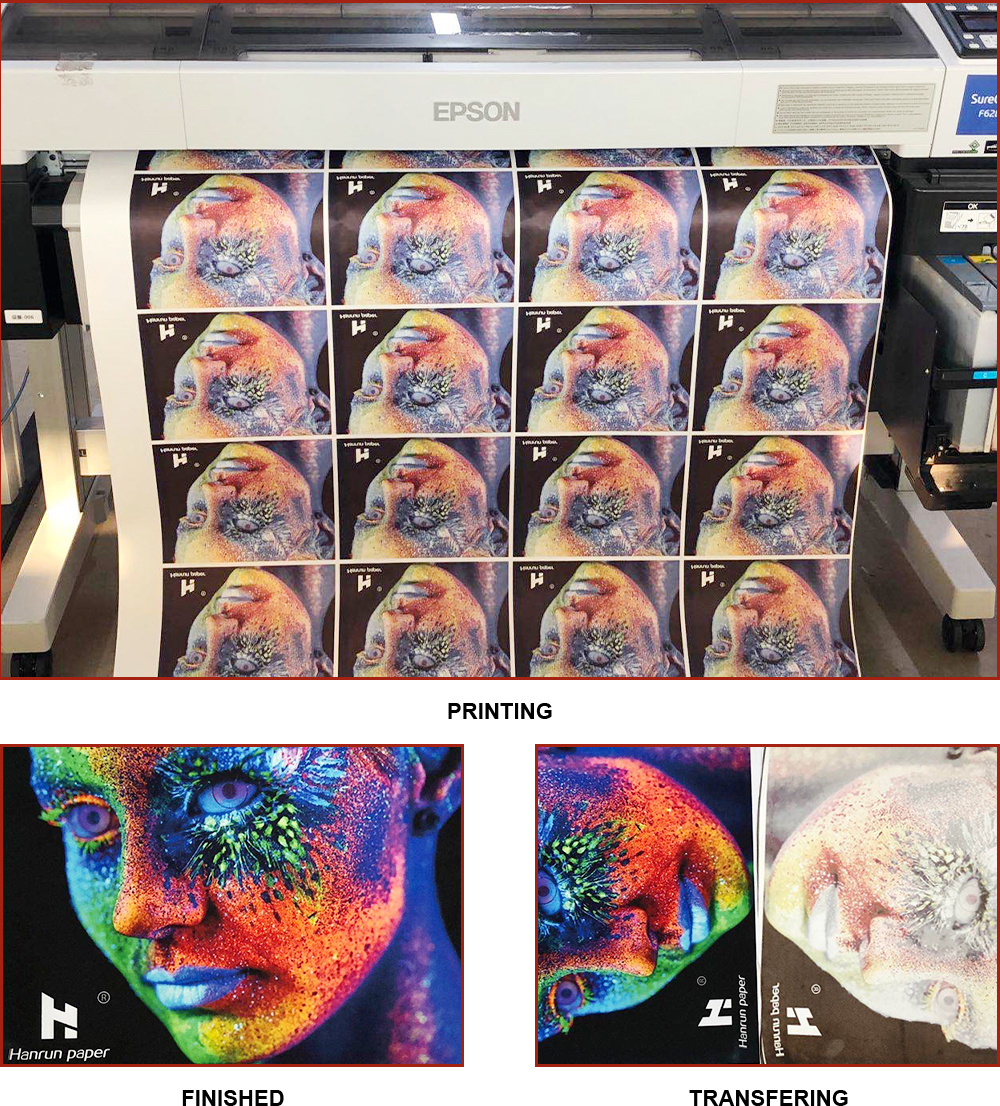 Machine:Epson F10000 Ink Load:400 ICC File:InkSub HR4C Pressure:High Pressure
Temperature:210℃ Time:20S Cleaning Times:Unlimited Times