UV DTF Printing Guide
---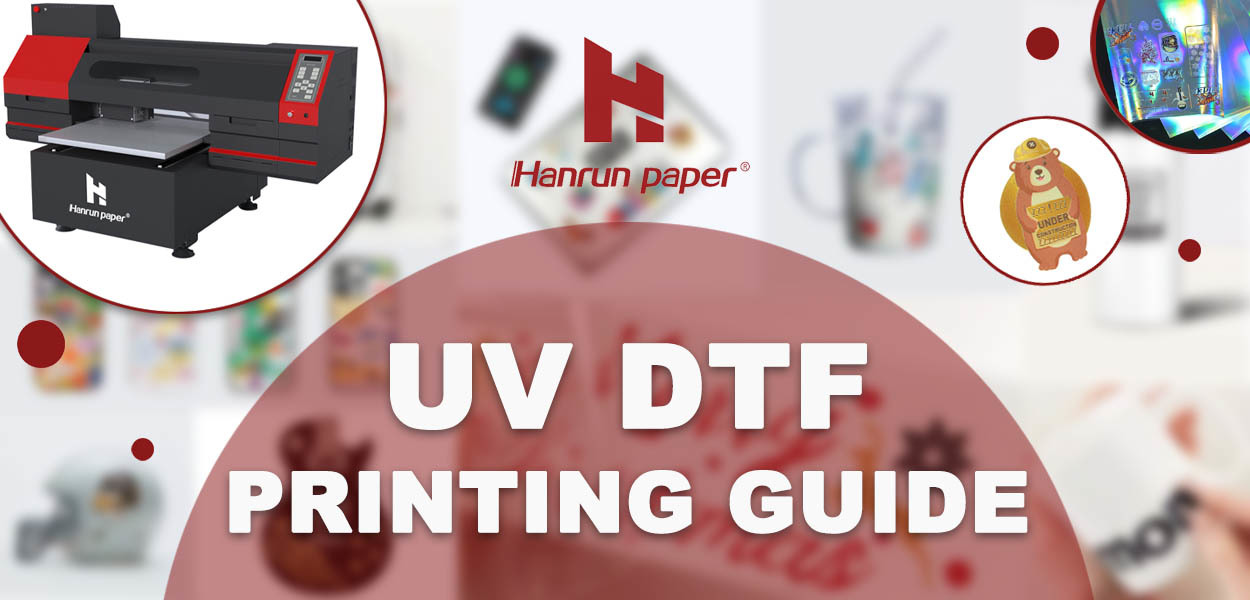 ---
---
What is UV DTF printing?
UV (ultraviolet) DTF printing is a new printing method that uses UV curing technology to create patterns on film. It is created by combining UV printing technology with the direct-to-film method of transfer printing.
UV DTF printing technology allows designs to be printed onto UV DTF films to create "UV transfer stickers". Not only can you use this "UV sticker" to print on irregular surfaces, but you can also store the printed stickers to transfer your designs whenever you need them, helping you to reduce your inventory costs. That's the clever point about the UV DTF print transfer solution. It can be peeled off by simply pressing down with your finger, without the need for heat pressure.
How does UV DTF printing work?
Hanrun Paper UV DTF printer has two working methods.
Method 1: Print directly on the object.
UV DTF flatbed printers have a maximum print height of 18cm, like normal UV printers, you can place the product you need to print directly on the flatbed, for example, mobile phone cases, key charms, acrylic panels, etc.
Method 2: Using UV DTF film transfer, also known as the "A/B film crystal labeling solution".
When the design is printed on the 'A' film, the ink is immediately exposed to UV light from an LED cold light source and sets up quickly. Once printed, the "A" film is glued to the "B" film using a laminator. The "A" film is on the back of the design and the "B" film is on the front. To transfer the design, the outline of the design is cut out with scissors, the "A" film is removed and the design has firmly adhered to the object. It does not require heat pressure, just finger pressure, and after a few seconds the 'B' film is peeled off and the design is successfully transferred to the substrate.
What do I need for Uv DTF printing?
UV DTF printer: a special printer equipped with an LED UV lamp to print designs onto a substrate or UVDTF transfer film.
UV DTF ink: UV light curing ink. Includes CMYK+w and varnish.
UV DTF film: the medium used for printing. The transfer is made by finger pressure only.
Laminator: Adheres the "A" film to the "B" film.

What are the advantages of UV DTF printing
Smarter printing method: compared with traditional printing, UV DTF printing is more accurate in positioning and richer in color. UV DTF printing does not require plate making before printing, low scrap rate can complete small batch products very economically and efficiently, helping users to increase business opportunities and printing profits.
Printed products are more personalized: UV DTF printers print very fine patterns, capable of printing 3D effects, with rich and clear pattern layers. UV curing varnish gives the printed products a glossy feel, making the pattern colors stay intact for a long time while being artistic; capable of printing photographic and painting style patterns, with great application space in advertising decoration, label printing, and other industries.
Printed products are more diversified: the materials that UV DTF printers can print are very wide. Rigid media such as glass, all kinds of metal, ceramic tiles, wood board, acrylic board, corrugated cardboard, plastic board, etc.; flexible media such as car stickers, reflective film, oil canvases, leather, etc. can be printed. It can effectively help you to improve product recognition, increase differentiation and give customers a better visual experience and rich color effects.
UV DTF ink is green: UV DTF printer printing is controlled by professional printing software, inkjet on demand, and neither wasted ink nor wastewater waste gas pollution. UV DTF ink does not contain volatile gases, and the printing process does not produce powerful noise, truly a clean and decent pollution-free green production process.
UV DTF printer delivery cycle is short: when using traditional printing methods such as screen printing, a product takes days or even dozens of days from design, and proofing to delivery. The UVDTF printer technology can deliver the finished product in 2-5 minutes, and there is no restriction on mass production, which truly realizes a small batch, multi-variety, and high-efficiency production process, with strong application flexibility.
---