HD-NEON Sublimation Ink
- Vibrant and bright fluorescent colors
- Optimal ink fluidity and printability
- OEKO-TEX ECO-Passport standard
- I3200/4720/DX7/DX6/DX5/5113/ DX4/XP600

---
---
sublimation ink
sublimation printing
sublimation t shirt
fluorescent sublimation ink
neon sublimation ink
undefined
Detailed Description
HD-NEON Sublimation Ink
Hanrun Paper HD-Neon fluorescent sublimation ink brings an innovative solution that combines intense color brilliance, exceptional versatility, and long-lasting durability. Designed to work seamlessly with a wide range of sublimation printers and fabrics, this ink opens up a world of creative possibilities. Not only does our fluorescent sublimation ink deliver stunning visuals, but it also maintains its brilliance even after numerous washes, UV exposure, and wear, ensuring your prints stand the test of time. Hanrun Paper HD-Neon sublimation ink holds OEKO-TEX ECO-passport certification, boasts an eco-conscious formulation that minimizes its environmental impact without compromising on its vibrant color and performance.
Colours & Fastness
| | | | | |
| --- | --- | --- | --- | --- |
| Colours | Dry Rub Fastness | Wet Rub Fastness | Washing Fastness | Light Fastness |
| NM | 4-5 | 4-5 | 4-5 | 4-5 |
| NY | 4-5 | 4-5 | 4-5 | 4-5 |
*Max Level 5

Features:
● Vibrant and bright fluorescent colors bring you amazing color performance
● High color density, a wide color gamut
● Optimal ink fluidity and printability through piezo-heads
● Excellent image definition in direct printing and transfer as well
● Very good fastness properties
● High optical density & 90%+ transfer rate
● Lower ink cost, brings high profitability
Application: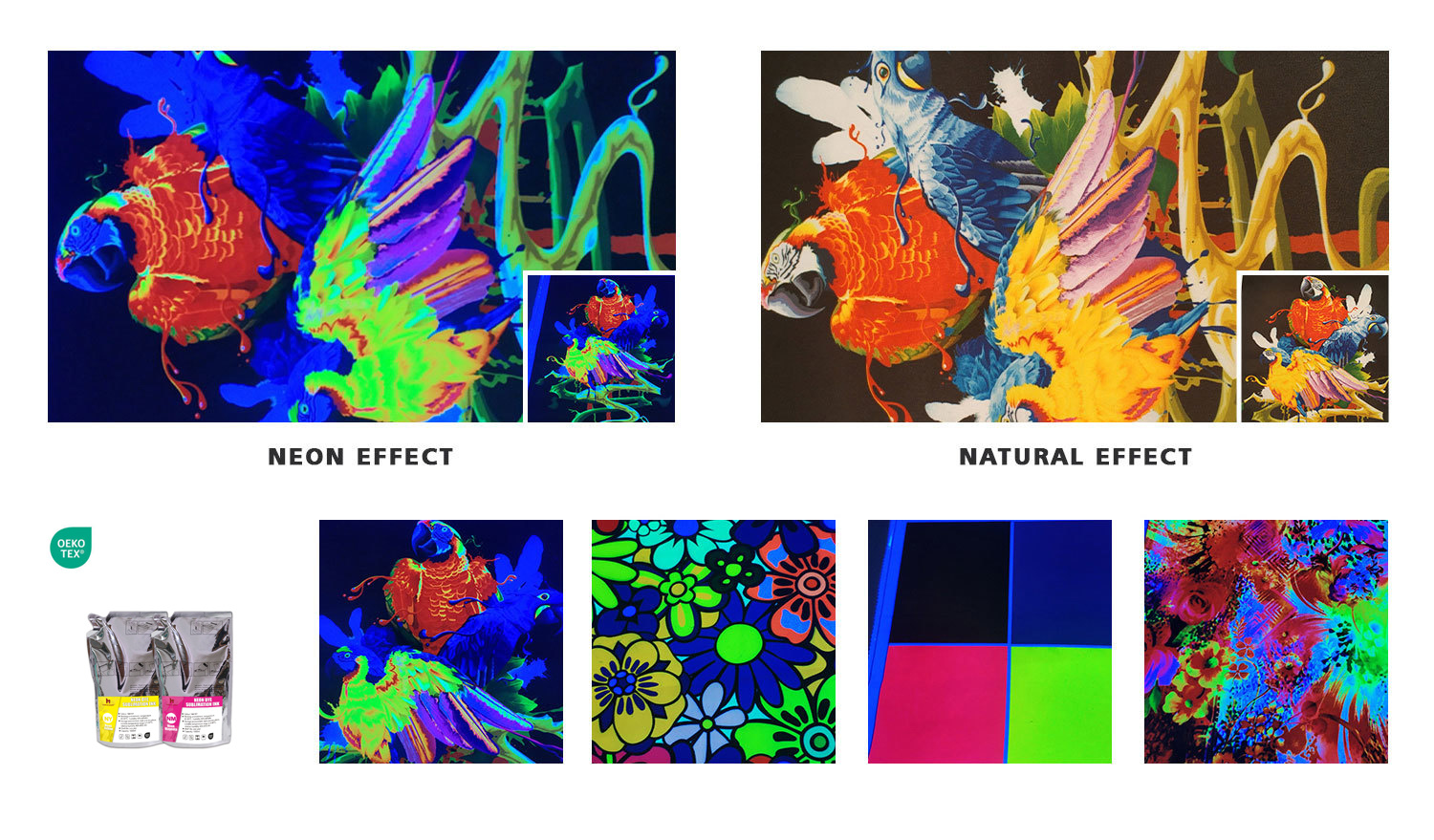 High-end home furnishing and fashion: beddings, pillows, curtains, and other home decor items; personalized products.
Storage conditions:
1. The ink should be stored in a clean, dark, and dry place with a temperature between 20-30°C and relative humidity of 30%-70% RH.
2. The ink is sensitive to light, heat, and steam.
3. Precautions: Keep the container tightly closed and store it away from vehicles.
4. Shelf life: The ink has a shelf life of one year (eight months for fluorescent colors). After unpacking, it needs to be kept airtight, stored in dark and cool conditions, and used within one month.
Instructions for use:
1. Before using this product for the first time, clean the ink pipes, ink cartridges, and ink heads with our company's special cleaning solution. Be sure to shake the ink well before using it on the machine. If it is mixed with original ink and other compatible inks, it may react, causing ink head clogging and color distortion.
2. Heat transfer settings: The recommended temperature for the transfer fabric is 200-230°C for 28 seconds. The specific transfer conditions (temperature and time) depend on the actual situation.
3. The ICC curve is crucial to the color performance. If you are not satisfied with the color, please contact us. Additionally, our company offers a variety of black inks to choose from. Please let us know if you have any needs.

Find distributor
Hanrun Paper offers high-quality sublimation ink worldwide. As a direct factory supplier, we ensure competitive pricing without compromising quality. Our sublimation ink is available worldwide and is perfect for digital printing on various materials, compatible with various digital printers and materials.
We are currently seeking distributors worldwide to help bring our high-quality sublimation ink to even more customers at an affordable price.